As a blizzard roared across New England, more than 240,000 households in eastern Massachusetts found themselves without power at the peak of the storm. Travel was dangerous. Wild winds struck without warning in many communities. And in southeastern Massachusetts and the Cape, snow heavier than the rest of the region snapped trees and felled power lines. 
"Whiteout conditions could develop at almost anytime anywhere," said Alan Dunham of the National Weather Service's Taunton outpost. "Most visibility is running a quarter of a mile or less."
Governor Charlie Baker repeated the public safety mantra he's developed since coming into office amidst the formidable storms of 2015: Work from home if you can, stay clear of the roads, check on neighbors (especially the elderly) and don't crowd the snowplows.
Baker said the state's transportation department is closely monitoring both the highways and public transportation, but his mind is on the power outages that have plagued the eastern part of the Commonwealth since the last storm.
"The power outage was our biggest concern, especially where the snow was going to be heavy and wet and where the winds are going to blow pretty hard," Baker said.
Transportation Secretary Stephanie Pollack said it may be tempting for drivers to get on the roads this afternoon, but she advised drivers to allow local plows and the state's 3,5000 pieces of equipment the room to clear the roads.
In many areas, "the snow is falling at rates the exceed our ability to keep up with it as the afternoon wears on," Pollack said.
Pollack said tomorrow's commute will depend largely on two things: when the storm ends and the nature of the snow. Lighter snow, Pollack said means clearer roads, fewer downed trees and fewer power outages. But the powder can still interfere with the MBTA's Commuter Rail as well as with the Red and Orange Line trains, which might need to plow through drifting snow tomorrow morning.
Limited MBTA service is partially intended to keep some MBTA trains out of service so they can be used for Wednesday's commute.
"It means there are Commuter Rail trains and Red Line trains and Orange Line trains and Blue Line trains that we're not using, that are not out in the snow, and that gives us a head start on tomorrow," Pollack said.
The rate at which the snow falls can have a big effect on keeping roads clear. As a rule, plows can handle about three inches an hour. Because the rate of accumulation is less than that in Boston, the city has had little trouble keeping up.
Southeastern Massachusetts was more challenged, although at least one responder saw his job as something of a contest. For 54-year-old Don DeCastro of Holliston, it's a good day to be a snowplow driver. DeCastro, whose principle occupation is landscape contractor, will go out today three or four times to keep ahead of the snowstorm. He says over the past few decades he's learned that waiting until it's over can lead to big trouble. 
He says he either spends five or ten minutes on a driveway a few times in the day, or a half hour on each at the end of the day trying to push a foot of snow. 
"So I make a pass at all these driveways and parking lots so later on it's easier to get in and not get stuck," he said. "If there's an emergency at any of these houses a vehicle will have an easier way to get into the driveway."
Gov. Baker said the storm will hit the "length and width" of the state. Snowfall should end around 8 p.m. with the storm peaking midafternoon. Expect light snow into the night.
Thousands of flights have been cancelled. Travelers should check with their airlines before setting off for the airport. Amtrak has also temporarily suspended service between Boston and New York City.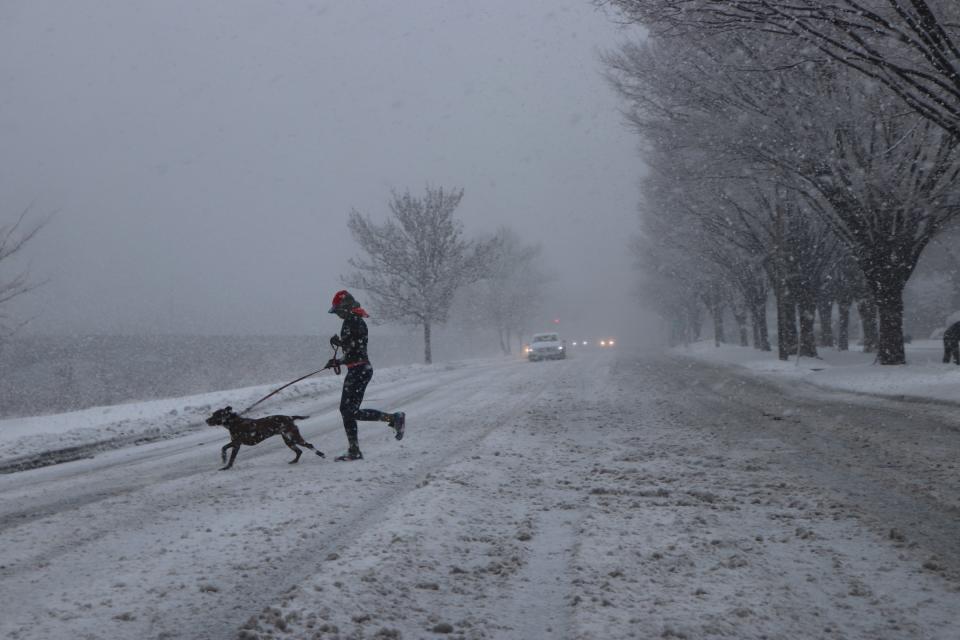 Photo Credit: Jeff Keating/WGBH News
Temperatures are expected to hit the low 40s on Wednesday.
Despite today's storm being the third in as many weeks, due to warm temperatures the snow has not lingered. That is in marked contrast to 2015 when shoulder-high piles of grime-encrusted snow almost became landmarks.
Despite the quick bounce backs, the winter of 2018 has taken a toll with widespread coastal erosion and flooding and significant damage to trees.
This story has been updated to include new information.