Even in the dead of winter, coastal areas of New England give us an escape from the gray skies and long, cold days. The soothing sound of the surf and distant views of the horizon provide serenity and beauty.
New England photographer David Zapatka created a special project of an often-admired coastal structure that's now being seen in a different light.
"It's about lighthouses," said Zapatka. "It's about the stars above and it's about the moment of their capture, which is generally the darkest of dark nights each month."
On a cloudy, drizzly December day at the end of Ned's Point Road in Mattapoisett, Massachusetts, a 39-foot-tall lighthouse sits on the north side of Mattapoisett Harbor.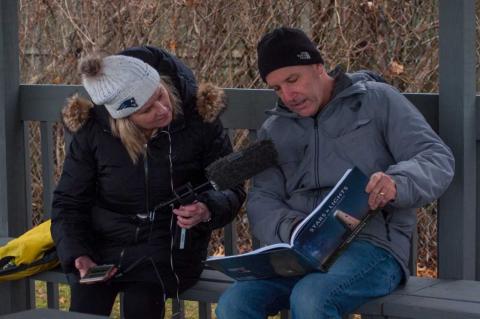 Photo Credit: Courtesy of Sean Daly
With GPS now the standard, lighthouses, which once helped ships safely navigate through harbors, have outlived their original function. But they still hold a special place for many in New England.
 Zapatka is a videographer who travels the world working for network television.
Four years ago, he began a project that combined his passion for lighthouses with his photography skills. He photographed 130 working lighthouses, traveling as far south as Cape May, New Jersey, as far west as Buffalo, New York, and as far north as Lubec, Maine, along the Canadian border.
"My objective is to be out there on clear nights during a new moon when there's millions of millions of stars … it's amazing," Zapatka said. "The timing is important because once the moon reaches a certain quarter or phase, it's just too bright when you do a long exposure."
So, the lunar schedule and lighting were key. It was a daunting and dangerous project — getting to the lighthouses in the middle of the night and working around the tide, among other things.
"I was scurrying around quickly on very slick and dangerous rocks to get these shots done, so over time I started collecting more and more gear," Zapatka said. "The first thing I added was a rock climbing helmet with a headlamp in case I fall."
Zapatka also bought a life vest in case he fell in the water. In one of the pockets, he stored an EPIRD (Emergency Position Indicating Radio Beacon), or satellite beacon.
Zapatka says he always telephoned the Coast Guard, notified local police, and got written permission to be on the property.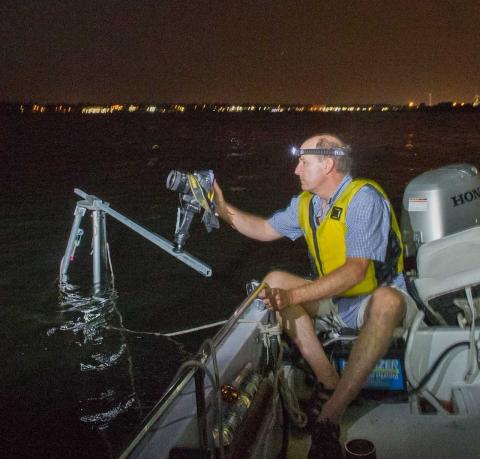 Photo Credit: Richard Kizirian Photographer
As the project progressed, he had a friend build a 20-foot, 80-pound aluminum tripod. He secured the camera to the top so he could get a steady shot while the boat was bobbing in the water.
"So, I would take the tripod and put it off the side of the boat, let the legs settle onto the bottom so the top of the tripod is sticking out of the water, and you put the camera on top of that high and dry. It's only a couple feet above the water, but it's a stable platform," Zapatka said. 
He didn't work alone. Fellow veteran television reporter Sean Daly was with Zapatka for some of the most harrowing photo shoots — and he loved the project.
"You're out there in a small little boat in the Atlantic Ocean or Long Island Sound or wherever you are … you feel your smallness very quickly," said Daly. "And you get absorbed into the enormity of the universe."
And the enormity of the project itself. Zapatka recalls the summer of 2017, when he and Daly reached Graves Light in the middle of Boston Harbor, which is privately owned and isolated.
"We had to climb up a 35-foot ladder and we had 10 cases of gear to carry, including sleeping bags and a tent because there's a platform next to the lighthouse. So, we had to plan to stay the night and had the ability to cook dinner out there," he said.
Zapatka recognizes working on this project was a bit over the top, but he was driven by his passion to archive these beautiful lighthouses. The name of his book is "Stars & Lights: Darkest of Dark Nights."
"Every one of the lighthouses has taught me something. If not that it's a grand adventure, that's one of the biggest lessons," he said. "It's so much fun."
A fun way to preserve history and enjoy New England's endearing lighthouse landmarks, which he hopes will continue to shine brightly.