A black pickup truck cruises through the intersection of Hyde Park Avenue and Cummins Highway in Roslindale honking its horn wildly — but it's not because of the traffic. As he passes, the driver sticks an enthusiastic thumbs-up out the side window, where a group of student artists is perched on ladders or on scaffolding working on a big, bright mural across the side of Atlas Liquors.
This happens a lot when the Mayor's Mural Crew is out working. Now in its 26th year, this summer jobs program run by the City of Boston sends young students from the area — this year, almost twenty of them — to paint public art all around the city.
They've completed five murals in just six weeks this summer, among them a tranquil forest of birch trees and a larger-than-life bodega cat in Roslindale and a retro-inspired abstract design on the side of the Whole Foods in Jamaica Plain. They also worked on two as part of a series called "To Immigrants With Love," which features images of immigrants from the past alongside ones from the present day.
This one depicts the founders of Atlas Liquors, Louis and Beatrice White, who immigrated to the United States from Russia in the early 1900s. Their grandson still runs the store. On the other side is Alex Castillo, who immigrated in 1996 from the Dominican Republic and started a tech company called Digitech Electronic Solutions a little ways down the street. The message "You will always be welcome in the city of Boston" is written in English, Spanish, Yiddish and Haitian Creole.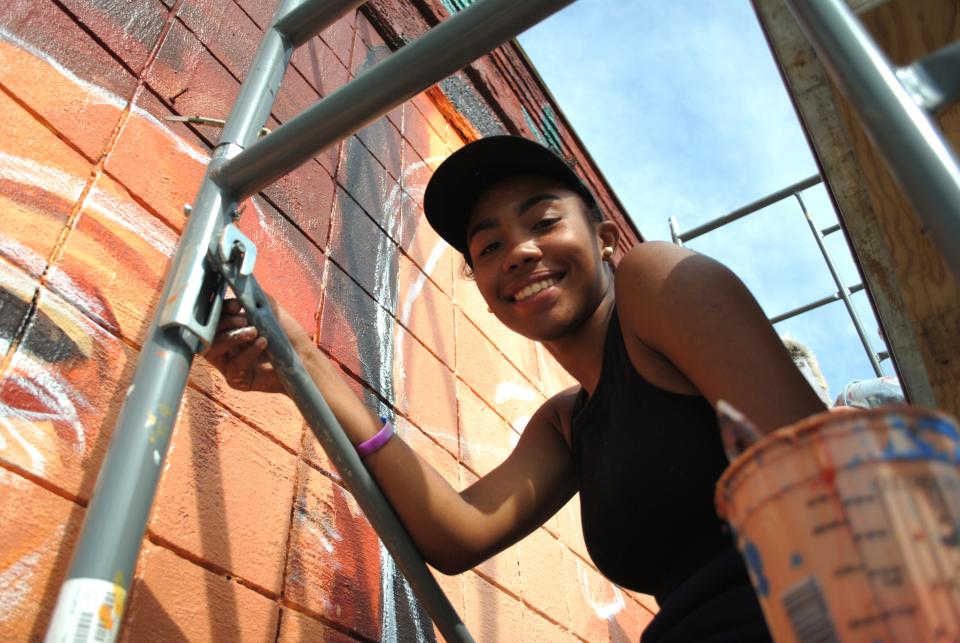 Photo Credit: Amanda McGowan/WGBH News
"We really wanted to give the immigrant community in Boston a voice and a very permanent, prominent voice," says Katherine Copeland, the Immigrant Public Art Coordinator for the Mayor's Office For Immigrant Advancement, who today is working side-by-side with the students. "We wanted to juxtapose how people have been contributing from as early as 1917 to the current day, now."
The project has special significance to many of the artists, too.
"A lot of my neighbors are immigrants, people from Haiti and Greece and all different parts of the world," says Christina Karos, a Roslindale resident and Boston Latin School graduate who now attends Temple University. "You see all the news, all these things going on. Then seeing 'you'll always be welcome in the city of Boston' makes me feel like we're doing something good here for my community in Roslindale."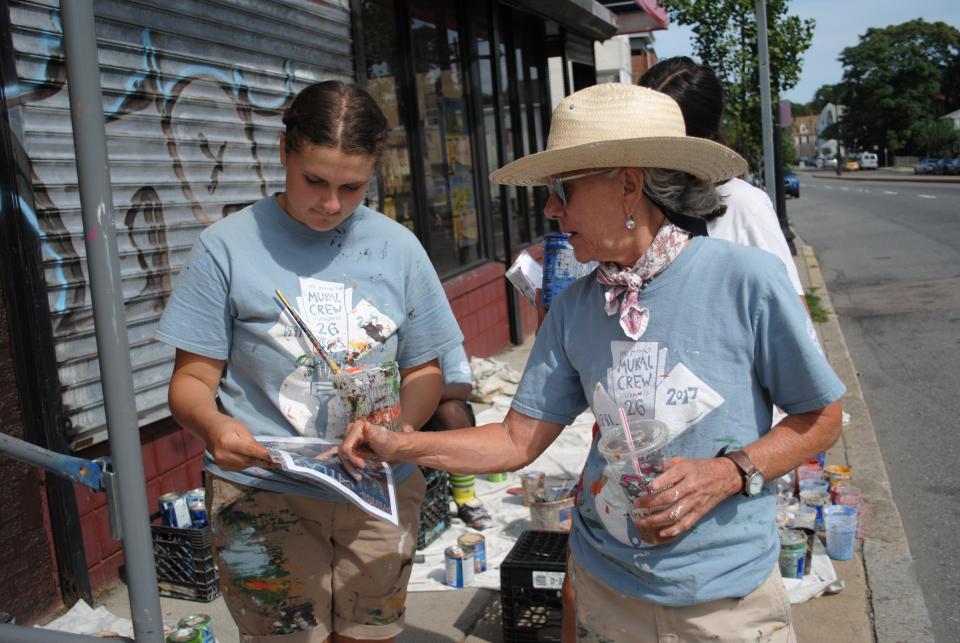 Photo Credit: Amanda McGowan/WGBH News
Artist Heidi Schork has been leading the Mural Crew since its inception 26 years ago. As the crew works, she keeps a watchful eye on their progress — reminding them to trust their instincts and making sure they step back and look at the big picture once in a while. 
"When they're going to sign up, we warn them: It's really hard work," she says. "It's hot. It's dirty. You're going to be moving all around the city. You're under pressure. You're going to be on ladders."
On top of that, it can be terrifying. For many students, it's their first time working on art of this scale. For some, it may even be their first time working extensively with art supplies at all. "To do big art takes a lot of nerve," Schork explains.
"If you're an adolescent, the worst thing in the world to do is mess up, in front of everybody, in front of kids you don't know. That stops everybody in their tracks," Schork says. "To build up confidence in order to take a risk and make a mistake is, every single day, a new challenge."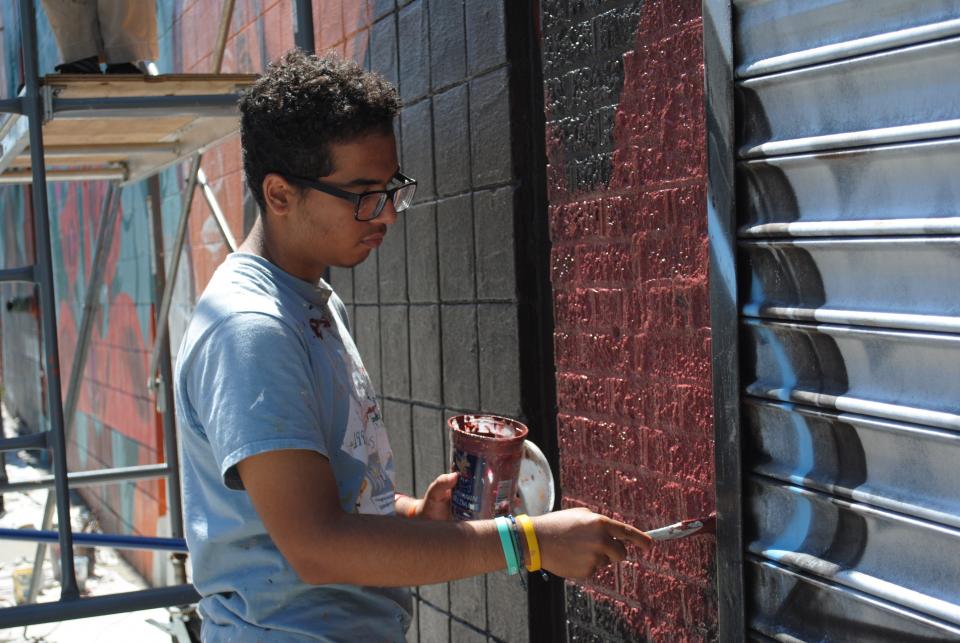 Photo Credit: Amanda McGowan/WGBH News
Schork likes to remind them that it's only paint — the worst thing that can happen is you have to paint over it. That attitude comes in handy on Mural Crew, which sometimes pushes students out of their comfort zones. Artist Valencia Louis, a 15-year old student at the John D. O'Bryant School, points toward the six-foot high scaffolding artists are using to paint the faces of Louis and Beatrice White. "When I first came here, I couldn't even get on that. I had a fear of falling down," she says. But now? "I know how to get up there with or without the ladder."
Before this mural, the artists finished another project in East Boston as part of the "To Immigrants With Love" series. For many of the artists, it was their first time visiting that part of the city. 
"After we'd finish for the day, we'd go to the harbor and talk to each other and hang out," says Jonathan Monterovidal, a rising senior at Match Charter. "We were just talking about going to the beach today after this. I feel like this job has brought us together. ... [We've] made new friends."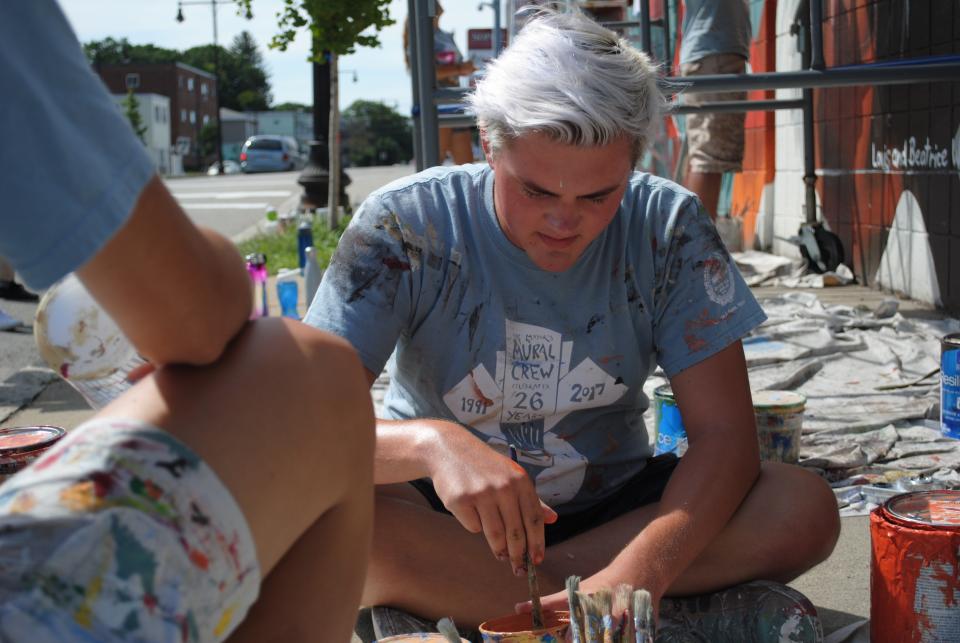 Photo Credit: Amanda McGowan/WGBH News
Schork has seen that, too.
"They're free, it's summer, they're outside," she says. "I don't want to say it's like 'Lord of the Flies,' but they've created their own tribal mural crew identity group, which has a lot of freedom in it to be who you really are, to say what you really want to say."
To see more photos from the Mural Crew, check out the slideshow below.
Photo Credit: Amanda McGowan/WGBH News

Photo Credit: Amanda McGowan/WGBH News

Photo Credit: Amanda McGowan/WGBH News

Photo Credit: Amanda McGowan/WGBH News

Photo Credit: Amanda McGowan/WGBH News

Photo Credit: Amanda McGowan/WGBH News

Photo Credit: Amanda McGowan/WGBH News

Photo Credit: Amanda McGowan/WGBH News