Housing advocates say rents and home prices in Massachusetts are among the nation's highest because we're not building enough housing. A state law known as Chapter 40B is intended to help create more homes for moderate income people, who are especially in need. In Stoneham, and in many other towns, a development is being fought by residents.
Stoneham resident John Eaton stepped out of his car and onto the property of the old Weiss Farm. Developers want to build 264 apartments here.
"Three of the buildings will be five or six stories high," he said. "This is a residential area. They're single family homes. It just doesn't fit in this community. It's totally out of scale."
The town's zoning doesn't actually allow for multi-family developments like this. But that doesn't matter because of a state law passed in 1969 called 40B. Because less than 10 percent of Stoneham's housing is considered affordable, the law says local zoning ordinances can be over-ridden to allow for more dense developments a quarter of the homes created need to be reserved for people making 80 percent of the median income.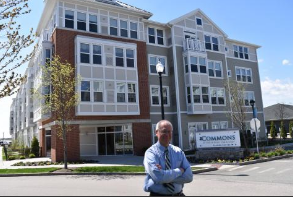 Photo Credit: Craig LeMoult/WGBH
Richard High knows something about multi-family housing. He's president of the developer John M. Corcoran & Company, and as he stood in front of a nearly 300-unit development in South Weymouth, he said, from an architectural and a quality standpoint, this is what we're proposing to do in Stoneham.
"It's a four-story building with gabled roofs. There are bay windows in the corner," he said, "which actually lead to cathedral ceilings in the units up at the top, which are really quite stunning."
Richard High, president of John M. Corcoran & Company, at the Commons at Southfield Highlands in South Weymouth
High says people are surprised to find out this is what affordable housing looks like. But he says they have to build attractive 40B developments, because three quarters of the units will be rented at full price.
"We have to collect enough money, effectively, from the market to make up for the fact that we're renting affordable units at well, well below the cost to produce them," he said.
High says without 40B, they'd never be able to get the zoning they need to create this kind of housing in a town like Stoneham.
"Massachusetts has a housing crisis," said Rachel Heller of Citizens Housing and Planning Association, or CHAPA, which promotes affordable housing in the state. "And so we really need every community to think through, where are the places in our community where we can have multi-family zoning? Where does it make sense? And the more proactive communities are, the more in control that the communities are as well. And it contributes to growing our economy, growing our housing stock, and improving the quality of life for people."
She said more than 200 communities in the state haven't zoned for more than 5-unit housing in more than a decade.
"Where does the person who serves food at your elementary school, where do they live?" asked Chrystal Kornegay, undersecretary for the state Department of Housing and Community Development. "You got to make places for those people to live and be part of the community."
Kornegay said 40B actually gives towns an incentive to create homes for those people, and a way to take control of how that's done. "Where they want to see development. How big, how tall. That kind of thing," she said. "It forces the conversation as opposed to having municipalities saying 'we don't want any growth.'"
"Well, it's completely wrong to suggest that cities and towns have control," said Jonathan Witten, an attorney who's representing a number of towns that are fighting 40B developments. Towns have zoning regulations for a reason, and he said this law just pushes them aside.
"There's a sense that government is not treating the neighborhoods or the municipalities fairly when the state says, "all local rules don't apply,'" he said.
Witten said these aren't just cases of NIMBY. He said the opposition to 40B isn't against affordable housing. It's against the process. And there are real concerns about the impact on a community to suddenly add a few hundred households all at once, "in terms of infrastructure, and schools, and land use considerations, and environmental considerations and open space preservation."
This same debate is playing out in towns all over the state. In Stoneham, the zoning board did approve the 40B proposal, but only if the developers cut the number of units by more than half. The developers say that makes the plan unfeasible and they're filing an appeal with the state.