It's a movement from grit to glitz. In the past decade, areas such as Quincy, Charlestown and South Boston have seen huge transformations, and gentrification. With upscale development, they're now some of the most expensive neighborhoods in the Boston area. And they have water views to boot. Now Somerville wants to join their ranks.
"Rarely do people even know that Somerville even has a waterfront," said Somerville Mayor Joe Curtatone. "You have to go back about 70 years for people to remember the Somerville beach. But we are a community that's on the shores of the Mystic River. And for so many decades it's been an underutilized asset."
Photo Credit: Anne Mostue / WGBH
The Mystic River isn't a river anyone's going to swim in anytime soon; raw sewage still spews into the river during severe storms. But in partnership with the city and the state, developers are improving the 10-acre riverfront park. And just behind it?
"A sunken amphitheatre here that leads you toward the water," said Andrea Simpson, marketing director for Federal Realty, which is in the midst of constructing the so-called "Assembly Row" complex on the riverfront. She describes two buildings that are coming out of the ground condos and rental apartments with views of the water. Next door is the shell of an upscale outlet mall. Feel like shopping?
"We have announced Brooks Brothers, Chico's …" Simpson continued.
Or catching a movie?
"… And then we've announced the AMC theatre …"
Or dinner?
"In terms of dining: Legal C Bar, Papagayo, JP Licks, and we're working with a number of others that we hope to finalize very soon," Simpson finished.
It's a remarkable turn in the history of the property, which was named Assembly Square after the Ford Motor assembly plan that opened in 1926. It closed in 1958 and with it several other industrial businesses. In the early 80s, the city of Somerville declared the area blighted and turned the old plant into a shopping mall. With the introduction of an MBTA Station next summer, Simpson says the whole development will feel urban.
The Mystic River isn't a river anyone's going to swim in anytime soon; raw sewage still spews into the river during severe storms.
"This won't feel like anything that Greater Boston has today," Simpson said. "It will be Boston's first outdoor living room. There will be oversized sofas and chairs and coffee tables and people will plug in and there's a fire pit there. It overlooks the water, we'll have live entertainment."
Live entertainment will add to the artsy vibe the developers and city hope to create. In fact, they're promising a large mural painted by local artists, and a regularly held craft fair on the weekends, called Assembled.
"We've basically been drawing artists in all media from Boston, Somerville and surrounding areas to come display their work," said Dara Cheek, a jeweler and one of Assembled's organizers. "We had about 32 artists at the first show and it's a series of tents, actually. Each artist has their own 10-foot tent and they're set up next to each other along this strip in front of these facilities that are currently being constructed."
But while she admires this development, Cheek doesn't think she or other artist friends from Somerville could afford the apartments, which start at $1,900 a month for a studio.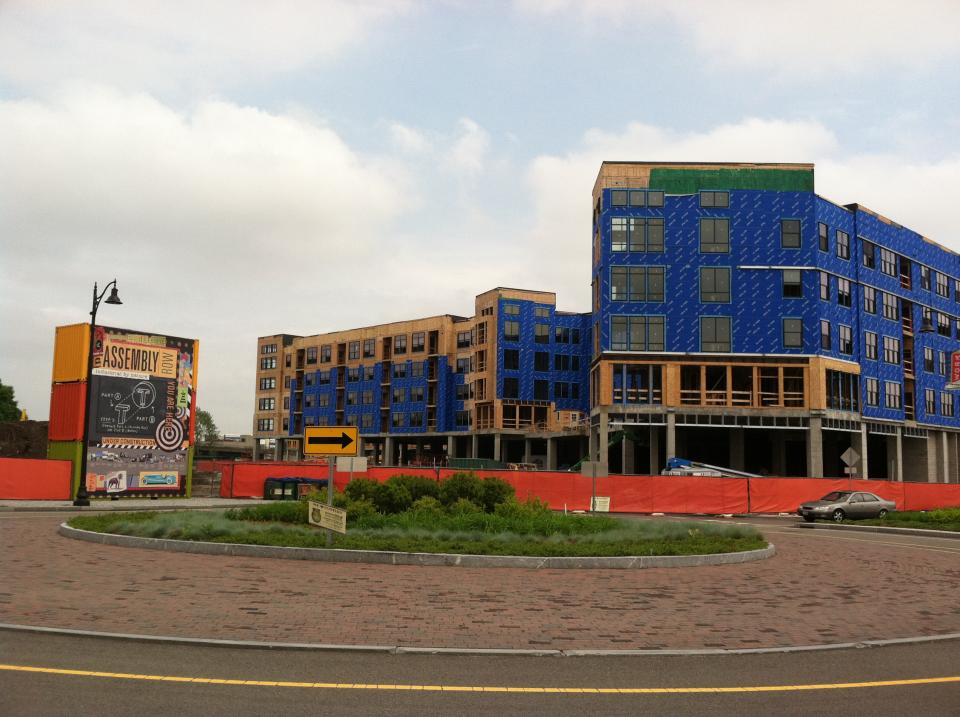 "It's a wonderful space and it would be a great space to work," she said. "But I would struggle to live there. My hope for the future is that they'll consider setting aside some artist spaces in that facility that would allow artists to actually live and work there as opposed to coming in for the weekly markets."
And the developers are doing that. They're required by law to set aside 12.5 percent of all units for people below the area's median income. They'll pay less in rent, so artists like Cheek have a better shot at being able to live here too. In fact Somerville is second only to New York in artists per capita. The mayor says affordable housing units are part of the effort to maintain community.
"We stated about 15 years ago that we're going to plan for the long term, we're going to build healthy, sustainable, walkable, bike-able neighborhoods," Curtatone said. "We're going to unlock the natural resources that we have."
Even with all these lofty plans, there are challenges. Can this development overcome a reputation of a dirty industrial waterfront? Will people pay two grand or more a month to rent in Somerville, when the going rate is much less? And will Assembly Square become a hotspot for shopping and nightlife? The city already sees hopeful signs – from the Saturday craft market, widening of the bike lanes, and construction of the new park. By this time next year, they hope the "Somerville Waterfront" will be an attractive destination.