If you're looking to infuse your weekend with a little culture or a little comedy, Jared Bowen has you covered. Here are his picks from the Boston arts scene this week.
On exhibit until March 24 at the Danforth Museum of Art
I hope that this exhibit gives the public an opportunity to know John Wilson — both his work and his story. Wilson grew up in Roxbury, where he started documenting the neighborhood around him form an early age. A few tutors from the school at the Museum for Fine Arts recognized Wilson's immense talent and pulled him into their program, where he stared to develop as an artist.
Looking at the world around him in the 1930s, Wilson began to challenge notions of segregation and discrimination. He portrayed the African American experience for its humanity and its tenacity. As Katherine French, director of the Danforth Museum explained, "There's not a sense of anger… [there's] this awareness that there's evil in the world, that there's real danger, and yet a sense of tenderness — of wanting to protect."
The tenderness French describes is especially apparent in Wilson's portrait of his brother, "Black Despair." Wilson's brother grew up in Boston but was sent to the South for basic training during World War II. Below the Mason Dixon line, Wilson's brother experienced extreme discrimination. When his brother returned home, Wilson captured his despair on canvas — don't leave the museum without paying this portrait a visit.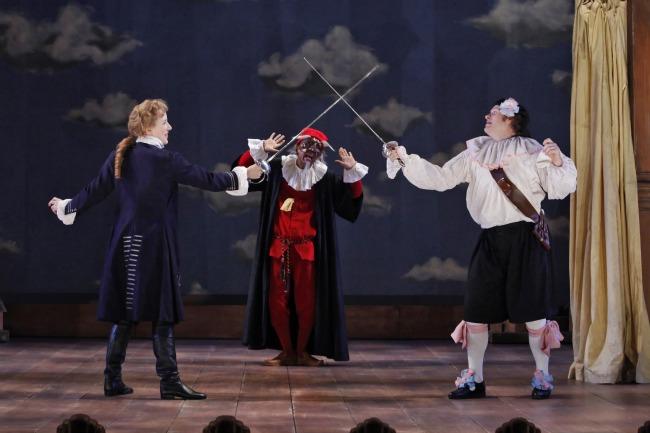 Photo Credit: ArtsEmerson
Presented by ArtsEmerson and playing at the Paramount Center Mainstage through Feb. 10
This production is a little dose of theatrical Zoloft for us all as we struggle through the depths of January. Director Christopher Bayes and ArtsEmerson have created an utterly hilarious and wonderfully fine-tuned production of this play, which was written by Carlo Goldoni in the 18th century.
At the center of the slapstick plot is a dimwitted servant who has managed to get hired by two masters. Endeavoring to get two salaries, he strives to please both bosses — to no avail.
From the punch lines to the costumes, each piece of this production is fun and colorful. Congratulations to ArtsEmerson, as well, for incorporating so much improvisation into the production; the spontaneity helps the play's energy stay high and the jokes fly fast. And these jokes aren't just 18th century standbys — the cast takes aim at everything from the Green Line to Scott Brown.