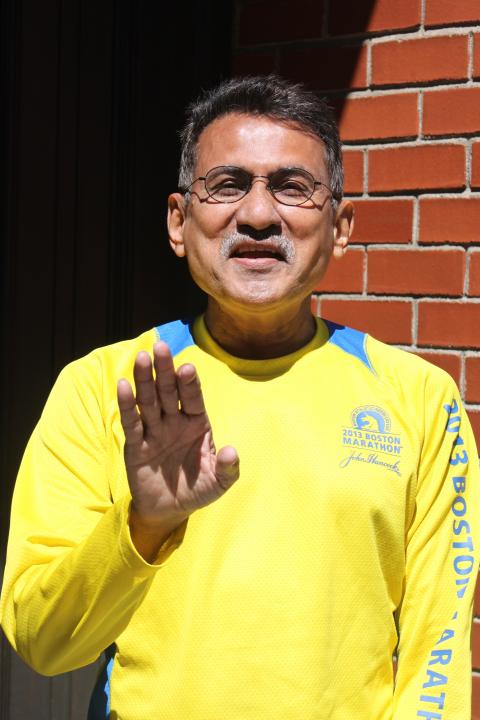 Photo Credit: Phillip Martin / WGBH News
  On April 15, 2013, thousands of athletes surged toward the finish line only to be stopped in their tracks by two homemade bombs.  A few days later President Barrack Obama came to town, and spoke movingly about that unfinished race. "They will run again," he promised. And more than 32,000 did. Obama exhorted the nation to run, and to race. He confidently declared:  "your Commonwealth is with you, your country is with you, we will all be with you as you learn to stand, and walk, and yes, run again. Of that I have no doubt. You will run again." 
Bhasker Desai, a 65 year old doctor from Mumbai, finished the race last year, and was sitting in a medical tent suffering exhaustion when the bombs went off. He came back for this year's race back in memory of those that were killed and injured last year, and for his wife and son, who had also passed away. "More than anything else, I had to come back, and I told myself, I'm going to run for the martyrs. I can not escape that responsibility— that I owe it to them." Desai says he will return to Boston yet again next year.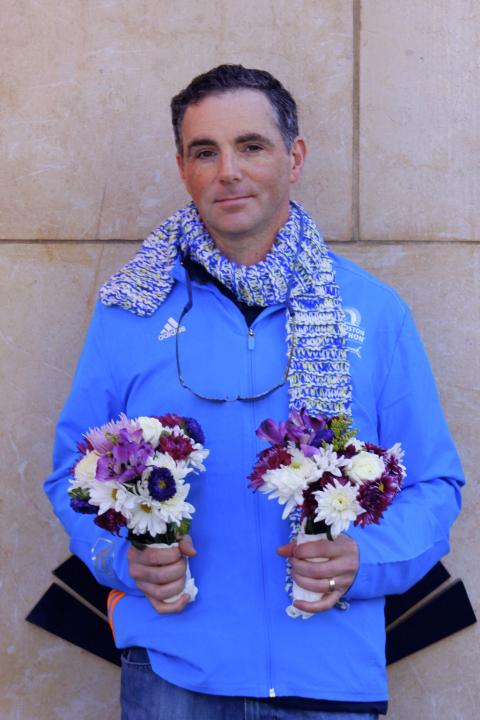 Photo Credit: Phillip Martin / WGBH News
"The return" is an important theme for many of of this years runners. "It's a sentiment that I think everyone—me and everybody else around Boston just agrees with a hundred percent," says Kevin McCarthy, originally from Dublin, and one of 9000 first time runners this year. He ran to raise money for the organization Casa Myrna, and he mentioned he also heard President Obama's words in his ear. "For me... I met my wife in Boston, I've had two careers in Boston. I got my education in Boston. So Boston, as I said, has done a lot for me. And this is my way of giving a gift back." Runner Ray Baker from British Columbia returned to run again after the bombs exploded minutes after his finish. He says, "as soon as we knew it was terrorists, we knew we were coming back." 
In the aftermath of the finish, hundreds of non-runners reached out to offer water, supplies, and support to runners. Two  blocks from the finish line in 2013, two racers from Boca Raton Florida were sitting in a daze on the doorstep of a brownstone on Commonwealth Avenue, when Michael ad Linda Gallup invited them in "to get warm, use the bathroom, get a cup of hot tea." Both runners came back for this year's Boston marathon, and one said she could not forget the act of kindness extended to her by these two Bostonians. Michael and Linda Gallup received her 2013 marathon medal in the mail, just weeks before Monday's race: a token of gratitude. "We were extremely moved when she gave us the medal. We couldn't believe that she did it after all the sacrifice that she did to achieve it," Michael says.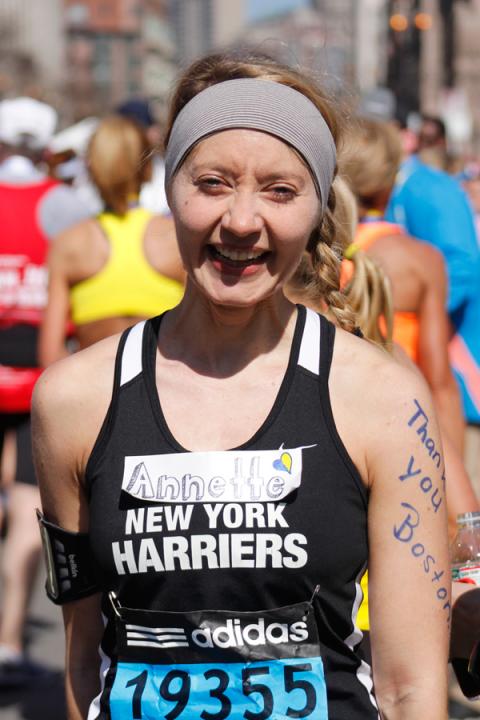 Photo Credit: Phillip Martin / WGBH News
Back at the finish line in 2014, a runner was holding her medal tightly in her hands when I approached her. Like Desai, she had also completed this same race just minutes ahead of the tragedy in 2013, and like so many others, she was also inspired by Obama's words. Annetta Diefenthaler came in around 3:00 pm. She was exhausted when she finally crossed the finish line. "It was no question that I would come back," she said. "I didn't run a good race here today, but it really didn't matter. I was not here for the time necessarily. I was hoping for a better time, but, you know, it really doesn't matter because being here and experiencing how this city shows up, and how people come out and cheered us. Boston is, you know, so special. It's the pinnacle of running, and I'm a runner, and I'm a marathoner, and running here was the biggest achievement in my running life."
Shelly Catou did not complete the race in 2013.  With sweat and salt pouring down her face, and a smile big as day, she crossed the finish line this time. When I asked her why she came back, her answer was simple: "I had to finish. Had to finish for last year and this year," adding "I ran again. I did it. I can do anything. We can do anything. Just put your mind to it, and you can do it. Nothing can stop us!"