As horrible as the Boston Marathon bombings were, they left a lasting impression of a city united ­— by grief for the victims, anger at the perpetrators, and a powerful determination to persevere. But for some residents of Boston's higher-crime neighborhoods, that unity has its limits.
Bruce Wall, the pastor at Global Ministries Christian Church in Dorchester's Codman Square — a neighborhood that's been plagued by violence over the years — first heard about the marathon bombings while he was traveling out of town, and he responded the way countless other people did.
"I was shocked," Wall recalls. "I wanted to ask my wife and children can we turn around and go back, but we couldn't do it … I wanted to go back because I wanted to figure out how we could help."
But soon, after Djokhar Tsarnaev was captured and Boston's focus turned to recovery, Wall's perspective began to shift.
"There were helicopters, the federal government got involved, the mayor actually came out of the hospital and the police commissioner was wheeling him around," Wall recalls. "So I said, 'Wow!' They called a state of emergency. Look what happens when you shut the city down and you want to accomplish something. They went after these two guys, and they accomplished their goal."
For years, Wall has argued that Boston's white power structure doesn't take inner-city violence seriously enough. Looking back, Wall says that while the marathon bombings were tragic, they also proved his point.
"With 40, 50, 60 people dying on the streets of Boston, I can't get a state of emergency," Wall said. "But when three white folk are killed, and hundreds of others are injured, and it's downtown on Boylston Street, that sets the priority.
"The mental model of a lot of people outside the black community is, 'That happens in Roxbury, Dorchester, and Mattapan,'" he added. "So: that happens, they've accepted it, we won't do anything about it. [But] that's not supposed to happen in Downtown Boston."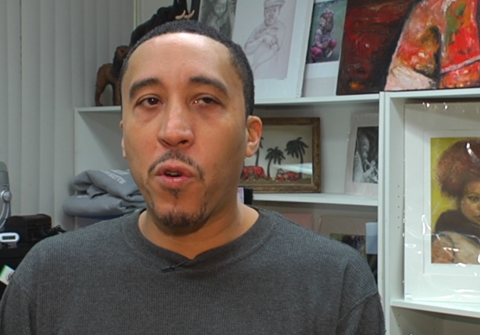 Wall isn't the only Bostonian whose response to the bombings was tinged with frustration. At his Blackstonian website, activist Jamarhl Crawford keeps a running count of shootings in Boston since the marathon attacks. The current tally is 219 — a number Crawford finds significant.
"Now that we've broached over 200, the number of shootings that have occurred is very on par" with the number of people injured in the marathon bombings, Crawford said.
Like Wall, Crawford believes that compared with what transpired after the bombings, the outcry over inner-city gun violence has been muted at best. Ask him why, and his response is blunt.
"It really boils down to the fact that black and brown lives are not held on par with our white counterparts in this country, and certainly not in this city," Crawford said.
But Mahzarin Banaji, a psychology professor at Harvard University and the co-author of Blindspot: The Hidden Biases of Good People, says there other possible explanations. For hundreds of thousand of years, Banaji notes, humans lived in small, cohesive groups that had to struggle with other groups to survive.
"When two members met at a resource — like a source of food or water — the ultimate question was, 'Am I going to kill you or are you going to kill me?'" Banaji said. "That's the brain, in part, that we've inherited."
As a result, Banaji says, we have an ingrained tendency to value the lives of those closest to us more than we value the lives of strangers — or those to whom, for whatever reason, we struggle to relate.
'I think inner-city violence is one of those things that we're going to look back on in 50 years and [ask], 'How could we have been so barbaric?' It's going to become something we use to measure ourselves the same way, today, we use slavery.'
But Banaji also notes that we live in a radically different world than our forbears. And if we ponder the question rationally, she says, we're capable of recognizing that no human life is more intrinsically valuable than another.
"The people who are raising this issue" — of why the marathon bombings resonate differently than urban violence — "are doing us an enormous favor," Banaji said. "[They're] putting in front of us something we simply can't disagree with — and that is that we don't care about some deaths and we care about other deaths."
"I think inner-city violence is one of those things that we're going to look back on in 50 years and [ask], 'How could we have been so barbaric?'" she added. "It's going to become something we use to measure ourselves the same way, today, we use slavery."
The marathon bombings may also have packed such a devastating emotional punch because they targeted an iconic Boston event —and occurred in a part of the city where violence is unexpected.
For some, however, these caveats and qualifiers are cold comfort.
In 2007, 13-year-old Steven Odom was shot and killed in Dorchester. Discussing the massive marathon-bombing manhunt with the New York Times, his mother Kim Odom said: "I can remember sitting on my couch and thinking to myself, 'Wow, did they do this the night that my son was killed?'"
In the recent Boston mayor's race, that argument seemed to resonate.
"When you read about violence in the paper in Boston what happens is we too often turn the page — and it happens every single day," then-candidate Marty Walsh said during a mayoral debate at WGBH last October.
"What happened Marathon Monday was a terrible, terrible tragedy for our city," Walsh added. "And the outrage over that incident should be happening also in our neighborhoods. Parents are burying too many young people."
Now, of course, Walsh is the mayor. And according to Crawford, he seems to be following through on his campaign-trail rhetoric.
"Mayor Menino got out of office and never met with us," Crawford said. "Already, in the first month of Mayor Walsh's installment, we've already had conversations and have meetings scheduled."
Wall says he, too, is impressed by the new mayor. But Wall adds that while Walsh can help shift the discussion around urban violence, the people who experience it every day need to do their part as well.
"Even black and brown people say, 'It happens in our community — we expect it to happen our community — and we are numb,'" Wall says. "We're traumatized, but we're also numb, and there's nothing we can do about it."
And ultimately, changing that may be as big a challenge as changing the perceptions of outsiders.
Watch the discussion on Greater Boston: