Several hundred excited, passionate, albeit visibly nervous Scott Brown supporters filled historic Faneuil Hall Sunday.  Comedian Lenny Clarke warmed up the crowd and former Massachusetts  Governor William Weld kept the fires burning by addressing Brown's opponent.  Elizabeth Warren, like Scott Brown, says she is an independent voice, but Weld dismissed her as part of a well oiled Democratic machine.
The boisterous gathering of sign waving Brown enthusiasts exploded as the Senator slowly made his way to the stage, shaking hands along the way. As he has at every campaign stop, Brown reminded his audience that he was in the fight of his political life with his opponent — whom he did not cite by name — and asked them to call upon everybody to participate. 
Among those cheering the incumbent Senator as he made his way back to his campaign bus was Joe Boike of Arlington, who said that he supported Brown because "he has stood up for veterans."   He added,  "I have two sons in the military."  
A sprinkling of Latino and African American supporters were also on hand, including Rachel Miselman, a teacher.  "He's for everyone, no matter what color," Miselman said of Brown.   With a Presidential election in blue Massachusetts, the Republican incumbent is looking at the larger election landscape, including voters of color, independents, Republicans, Democrats, women, rank and file unionists, small business owners. His speech also reached out to members of the military and veterans.   "And for all you military men and women...where are you, semper fi," the Senator exhorted.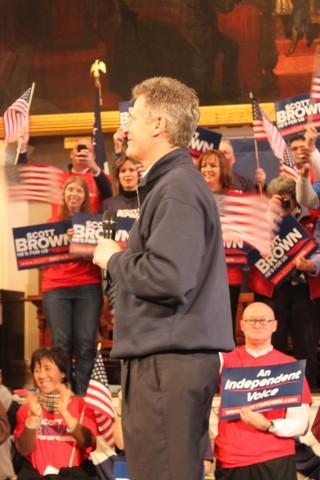 Photo Credit: Phillip Martin / WGBH
This is the coalition that Brown is counting on to offset Elizabeth Warren's advantages among traditional Democratic voters — including unions and minorities.  Brown strategists reason that only by cutting into the Democratic party base will the refrain shouted by the Senator's supporters Sunday, "six more years, six more years"  have any true resonance.