Each of the five thousand runners who didn't finish the Boston Marathon last year has a compelling story. Stopped in their tracks, they were loaded onto buses or sent to their hotels, uncertain of what had happened at the finish line. One young runner, Dianne Bacsik, is determined to finish this year, in honor of her mother, Donna.
Bacsik was just a casual runner. It was something to do in the summer, when she wasn't busy teaching kindergarten in Natick. But that changed in 2012, when her mother was diagnosed with lung cancer.
"I thought, there's nothing I can do to cure her, I'm not a doctor, I'm not a scientist, I can't do anything physically to cure her but I can help those who can. So I started just fundraising," she said.
Bacsik applied and received a Boston Marathon bib number from Dana-Farber Cancer Institute. She raised $5,000, and spent hours running after school and on the weekends. She jokes that she gave up much of her social life in Boston. But then last February, a month and a half before the marathon, Bacsik's mother died.
"When my mother passed away, my training was interrupted. I didn't have any [will]to do much of anything. To get up in the morning was a struggle. That lasted for a while. But slowly you have to get back to reality, to get back to work, and I got back to training. It was her that gave me the inspiration to keep going. Because as a cancer patient, she didn't have a choice but to fight," Bacsik explained.
So she kept running. Her students and their parents became her living support and inspiration, especially on Marathon Monday. She preplanned a spot to meet them at mile 10.
"And that's all I thought about for the first 10 miles, was I cannot wait to see those kids," Bacsik said. "And it couldn't have been a better experience. Those kids meant the world to me. They were my saving grace last year, the greatest source of joy in the lowest point in my life," she said.
Hear more about Bacsik's story on Greater Boston.
It was a memorable experience for the children, too, like 7-year-old Sonoma Caruso.
"I saw her and all my friends gave her a hug…I cheered and clapped, but it was kind of really hot so my hands were getting tired," Caruso said.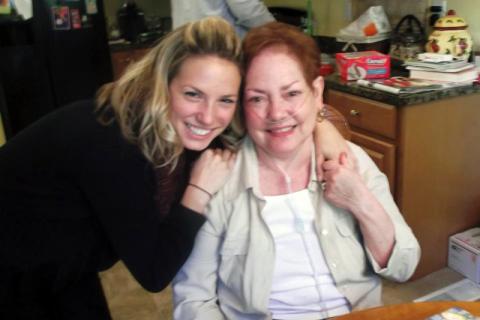 Photo Credit: Courtesy photo
Bacsik was tired, too, but she persisted, running over Heartbreak Hill even though she often walked while training. But then, at mile 21, she was stopped by police.
"My gut instinct said 'You're going to what?! You can't stop me. Do you know how long I've been running? Do you know how long I've been training? Do you know what this means to me?' And he said I'm sorry, we have to stop you! And I burst into tears, and the girl next to me burst into tears," she recalled.
Bacsik was stunned by the immediate police presence and urgent push to get runners on busses. She worried about her brother at the finish line, until they connected by phone. Still, she couldn't rest easy.
"For me, running the marathon was this critical bookend to my grieving process. I know I will grieve for the rest of my life but for that first difficult chunk of grieving, crossing that finish line was my way of honoring mom and closing the book on that difficult chapter. And what happened last year at the marathon opened another book. And this year, to me, running and crossing the finish line is going to be closing two books," she said.
Dianne continues to train almost everyday this month, with support from her students, who will cheer her on again this year.