It's Tuesday morning at the Chinese Progressive Association in Chinatown. Four residents have arrived with a looming problem: They were recently served eviction notices by their landlord, who only told them their apartments needed repair.
CPA's Karen Chen says such meetings are becoming common.
"We're currently organizing tenants from 10 different buildings facing the risk of displacement," Chen said. "We actually went to court with tenants from three different buildings."
Tan Qiang Yu is one of those here trying to stay in his home.
Yu and his family moved to Chinatown 10 years ago. Through a translator, he tells us that they're fond of the neighborhood.
"I want to stay here," he said. "We don't — me and my wife — we don't speak any English. It's hard for us to get around. We don't know how to take the subway."
Yu works as a restaurant cook and says his rent has steadily increased. That's a particular concern in Chinatown, where the median income is among the lowest in Boston.
"For us, while rent continue to rise, our pay hasn't gone up and that's been hard for us," Yu said.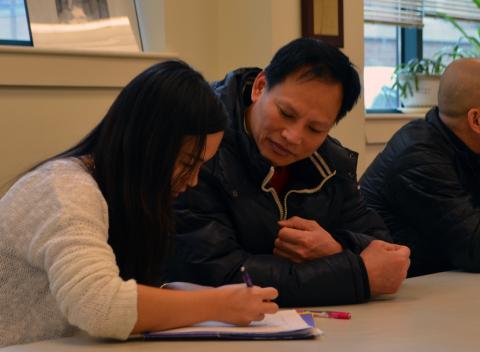 Photo Credit: James Edwards
The percentage of rentals in Chinatown is the highest in Boston — which makes rising rents an even bigger concern.
"Where are people gonna go?" Chen said. "There's really not many places that people could move to and a lot of the new housing stock in Chinatown, or around Chinatown, are all luxury."
Almost 25 years ago, Asians represented 70 percent of its residents. By 2010, they were just 46 percent. In the same time, the percentage of whites living in Chinatown more than doubled. Many of those new residents are opting for new developments like The Kensington — located on Washington Street, where the cheapest apartment costs just under $3,000 a month.
"Downtown Crossing and Chinatown is starting to be more heavily desirable area, so prices are going up, but I think with all the new developments going up, I don't see it going much higher than what they are right now, said Jason Gomes, the Kensington's assistant general manager. Since opening in August, Gomes says the building is attracting young professionals who work nearby. And he says that benefits the neighborhood.
"This whole area is up-and-coming, so it brings a lot of more retail, new business to the area, a lot more traffic into the area," he said.
That's helped lift Washington Street from the days when it was known as the Combat Zone — where blocks were littered with prostitution and adult movie houses. Gomes says Chinatown's development reflects what's taking place across the city.
'If something doesn't happen a whole community is going to be displaced. Something needs to happen quickly.'
"People have been saying that Boston prices are more comparable now to the New York City prices, but I think in this area there's — you know — with a lot of the new developments going up, they still offer the affordable housing," he said.
One of those affordable developments is visible from one of The Kensington's penthouses. Breaking ground last December, the $170-million One Greenway project plans to make 40 percent of its units affordable.
"Chinatown has been really a challenging place to develop," said Janelle Chan, executive director of the Asian Community Development Corporation, one of the developers of One Greenway. "There's scarce land. It's expensive and, quite frankly, more than just immigrants want to live here."
Chan admits balancing demand with affordability is a constant challenge.
"We're trying to meet the demand and that's tough," she said. "It needs to be a mix of both market rate — which is not just luxury housing — and also affordable, low income and moderate income, middle income families."
Chan says such diversity is key to maintaining what has made Chinatown a haven for many over the years.
"That's what we're really trying to preserve here in Chinatown, a diverse community that has opportunities for many different spectrums of people with different incomes," she said.
But One Greenway (scheduled for completion in June 2015) won't be finished in time for Yu and others in his building, which sits across the street from One Greenway. Their eviction notices are ordering them to move out by next month.
"If something doesn't happen a whole community is going to be displaced," Chen said. "Something needs to happen quickly."