The Middlesex DA's office confirmed Thursday morning that the body found a few feet off Mill Street in Lincoln was that of Stephen Rakes- known as "Stippo" in South Boston where he grew up.  
It was discovered at 1:30 pm Wednesday at the wooded entrance to the Cambridge reservoir. A sign reads "Authorized Vehicles Only-- No Trespassing".
Lolly Evangelista, who lives just up the road, said he was surprised when police rang his doorbell Wednesday. He said police told him they found a body on the side of the road and asked him if he saw anybody walk or drive by.
"Makes you think... I gotta keep my eye open now," he said. "Watch who's walkin' by. Who's drivin' slow."
There was no yellow tape to block off the spot or a chalk body outline on the ground but two Lincoln police officers stood guard outside their cruisers.  This could be possibly a crime scene. 
Initial reports suggested it was a suicide, but investigators are now describing Rakes' death as "suspicious".   His wallet was missing and police say his White Dodge Caravan was nowhere on the scene. 
Authorities are convinced that Rakes died elsewhere and that his body was dumped at this spot.
His friend Stephen Davis said Rakes did not commit suicide:
"He was brought out to Lincoln. I can't see how he got there. Somebody had to dump him there," Davis said. "He liked life. He has grandchildren... he wasn't suicidal."
 
When James "Whitey" Bulger was captured and was arraigned Davis, whose sister Debra was allegedly murdered by Bulger, grew close to Rakes.  They had coffee and breakfast together most days before the start of the court session. And they hung out outside of court as well. Rakes even got Davis on a bicycle.  At age 59, Rakes exercised vigorously said Davis, and was reportedly in good condition.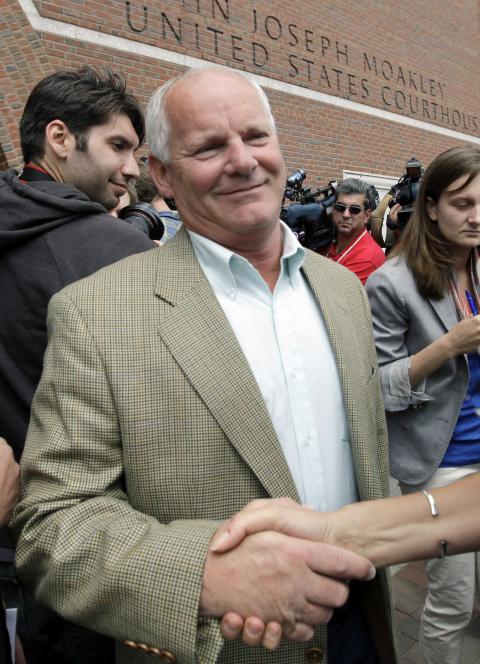 Photo Credit: AP Photo/Elise Amendola
Davis said he'd been trying to reach his friend since learning on Tuesday that Rakes had been cut from the prosecution's witness list.  He was reportedly despondent over that decision.
A state police detective and a detective from the city of Lincoln asked to meet Steve Davis Thursday in the lobby of the Hilton downtown where he was attending a Bulger victims rally.  The cops wanted wanted to ask him some questions.
"Must be all the phone calls I had into him," Davis said of the interview with detectives.

The officers arrived at the victim rally within minutes. Davis retreated to a private room with the detectives and when he came out I asked him what questions he asked and what he answered.
He said they asked how he knew Rakes, how they cut him out of the witness list, and that he was upset with that.
 
Now the man he called his friend was dead.
 
On the witness stand last week Kevin Weeks, Bulger's young, LT who in exchange for Gov. immunity admitted to abetting five murders said on the witness stand –twice –how much he despised Stephen "Stippo" Rakes.
 
And that day outside the courtroom Rakes replied: "Too bad, Kevin. You're not on my favorite list either."
 
Kevin Week's hatred for Rakes was on the mind of Sean Donahue, the son of a man who was allegedly murdered by Bulger just yards from where he stood when I spoke with him on the Boston waterfront.
"It was actually kind of scary knowing this man is going to be walking off the stand throwing threats around like that," Donahue said of Weeks' statements about Rakes. "You know, somebody who has actually participated in half a dozen murders that we know of. I mean, for somebody to get up and speak like I'm speaking now... you feel like your life is on the line."
The Weeks and Rakes families have a long history in South Boston2. There was a lot of bad blood between them over family matters, Davis said.
 
Weeks also hated Rakes because he said he had not told the truth about how he came to sell his liquor store.  Weeks insisted that while he may have extorted the store, he had told truth about Bulger's initial purchase. Weeks said gunplay entered into it only after Rakes began to back down from the deal.  
It was this conflicting interpretation of events that fueled Rakes' desire to take the witness stand against Bulger.
"My liquor store was never for sale," Rakes said outside the courthouse earlier this week after Weeks testified.  "He's got his day up on the stand, and I'll have my day. Then we'll see what the difference is. Compare them."
 
Rakes said that Weeks, Bulger, and Flemmi came to his house one night, and Flemmi- while holding his Rake's one-year-old daughter- in his lap, spun a gun on a table. Rakes said he was forced to accept $64,000 for the store he had worked all his life to build.
 
The store that once belonged to Rakes, and then Whitey Bulger is now owned by Asian immigrants who are not keen on all the attention the store is receiving these.
On the corner of Old Colony on Thursday there was a parade of customers heading in at rush hour. Daria Kinsella grew up in the City Point Iron Third section of Southie and said she remains a fan of "Whitey" Bulger.   Asked to decide whose version of events she believes about the liquor store  –Rakes or Weeks …… Kinsella doesn't hesitate to answer.
"I believe Kevin Weeks, I know their family very well. I believe that was just a made up story," she said referring to Rakes, "I believe he was a rat."

 Ricky Broadrick, from South Boston, had a different take. He said he knew Rakes from his store.
"He was a good guy," Broadrick said.
 
Miles away in Lincoln on Thursday evening, where Stephen Rakes body was found, the din of traffic was way of in the distance. The heat bugs and crickets are all you hear once the bicyclists and joggers traveling up and down this curvy, tree-lined road have passed.
 
And that wonderful isolation is what makes this a cherished community says Lolly Evangelista. But, thinking about the body of Stephen Rakes found on the doorstep of this bucolic town, Evangelista also reflected on the flip side of isolation:
"Not too many houses on this street. Half of them are hidden in the woods... so it's a great place to do something, if you're gonna do something," he said.

Editor's Note: Greater Boston spoke with attorney Andrew Cardinale and former James "Whitey" Bulger associate John "Red" Shea about the death of Stephen Rakes.