Last year, on April 19th, police and SWAT teams combed a 20 square block area of Watertown, Mass., searching for the Boston Marathon bombing suspect who had disappeared after a shootout on neighborhood streets. Residents were ordered to shelter in place inside their homes. When Governor Patrick finally lifted the lockdown, residents exhaled and celebrated in the streets. Most viewed the sheltering command as necessary, even if inconvenient. But two Watertown residents not only saw the directive as a violation of civil liberties, but went so far as to create works of art that protested the imposition.
As dawn broke that Friday morning, police dogs nuzzled their trained snouts beneath tarps while SWAT teams went yard to yard—opening sheds and garage doors across a swath of Watertown. While sheltering in place, Mike Mandel and Chantal Zakari–a married couple—watched it all unfold through the windows of their home.
"SWAT teams came into our backyard. They came fair early on. The first one came around 7:30, I think. It was pretty scary to see (them) with their tanks, kinda roaming around our neighborhood," Mandel said. "There were people being led out of their homes and being searched. I mean, that's what really inspired us to do this project. Our experience of going through all of this was pretty traumatic and very powerful, as it was for everyone, I think, who lived in Watertown."
Mandel and Zakari's experiences on that April 19th are quite different from many fellow residents of Watertown. They did not go into the streets to celebrate the end of the lockdown or cheer on police officers following the capture of bombing suspect Dzohar Tsarnaev. Mandel is a photographer and Zakari is a graphic designer. The two of them responded to events in a ceramics studio, where they combined their artistic talents to create commemorative plates.
"If you look in our kitchen right now you will see there are a number of plates on the wall that are commemorative plates," said Mandel. "Typically when a plate is created, it is to identify and remember something warm and comfortable."
But these are not typical plates, as Mandel describes.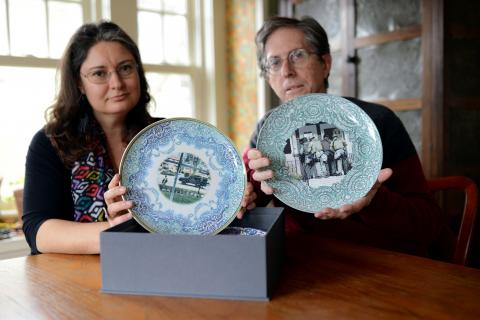 Photo Credit: Meredith Nierman
"If you look at the plates that are before you, you've got this kind of decorative element of the flowers and the kind of romantic idea of something that's beautiful and warm and comfortable. That is then broken by what's in the center of the plates. These are images of SWAT teams approaching people's doors and confronting people and people looking through their window and seeing police outside," Mandel said.
The project, titled Shelter in Plates, was announced on a website and by email in December, and the limited edition ceramic ware was sold out within days. Michael Dattolli purchased one of them.
"It's beautiful. I mean, it was definitely a nice way to sort of bring that experience into an art form, but not in a distasteful way," Dattolli said.
Zakari and Mandel also felt the plates were in good taste and therefore, they say they were surprised about what happened next.
"We created the website on a Saturday or Sunday, and four days later I got a call from my employer saying that Chief (Ed) Deveau had called and wanted my employer to pull funding out of the project, because if this project went to the press it would be bad publicity for the institution," Zakari said.
Sarah McKinnon is the dean of the School of the Museum of Fine Arts. That is Zakari and Mandel's place of employment. She remembered the call from Chief Deveau.
"Back in December, I had a phone call from Chief Deveau from Watertown police to talk to me a little bit about it," McKinnon stated. "He said, 'Were you aware that the SMFA was mentioned on the website?' and I said, 'No, I wasn't.' So I took a closer look and indeed saw that SMFA was mentioned on the website itself. SMFA had supported the project by virtue of a faculty enrichment grant."
Dean McKinnon described the conversation with Watertown's police chief as cordial and professional, but Mike Mandel has a wholly different interpretation of the telephone call.
"He made it clear that if the institution had their name associated with the project, then they were going to receive negative publicity," Mandel said. "This was going to be something bad for them in their recruitment of future students for the school. He basically was trying to pressure the institution to try to make this project stop."
McKinnon says that the SMFA respects academic freedom and there was no attempt to rescind the faculty enrichment grant that had actually been dispensed a year ago, despite her misgivings.
"My concern is, I just didn't want the school seen in a negative light. My concern was not with the particulars of the project, which I didn't know about, but we didn't want to be taking advantage of anyone else's suffering. If this was a project that would put us in a bad light, that was of concern to me," McKinnon said.
But Mandel and Zakari said the phone call from Watertown's police chief had a chilling effect.
"For the chief of police —in his official capacity—to call our employer and make his accusations was an act of intimidation," Mandel said. "It was an act of harassment and he should desist, and in addition he should apologize."
Raymond Dupuis is Captain of Police in Watertown. He was made available to WGBH after we reached out to Chief Deveau for a direct comment. Dupuis says Chief Deveau's main concern was about individuals profiting from the traumatic 18 hours in Watertown last year.
"I don't want to speak for chief Deveau. I don't want to misspeak or be misquoted," Dupuis said. "What I do know is that the chief recovered some complaints or some comments from people within the community about how they felt that people were trying to benefit financially from this situation. [The call] wasn't to harass them or intimidate them."
After Ed Deveau called the SMFA, Mandel and Zakari's lawyer sent a letter to the Watertown police chief (posted on the couple's website), which asks him to desist in "further harassment". Zakari says she and her husband never made money from the project and that it was never their intention.
"Yeah, the idea was this was going to be an affordable project for people to be able to own, not an elitist one-of-a-kind piece, and we wanted to break even and make it accessible rather than profit from it," Zakari said. "This was not a project that we created to make money."
The real issue here, argues Zakari and Mandel, is that they were pushing back against the common feel-good narrative that followed the Watertown manhunt and search.
Instead of celebrating the end to the siege, says Mandel and Zakari, they hope their Shelter in Plates collection will incite the public to pepper law enforcement officials with questions.
"I mean, think about the things that we don't know; think about the police firing 200 rounds into people's houses. How did they decide to evacuate some houses and not others?" Mandel said.
Christine Cole, Executive Director of the program on criminal justice and police at Harvard's Kennedy School, says these questions have already been answered.
"I actually think it was a remarkable plan by the government. It facilitated capture. The thing that we have to remember is that decisions were made based on what was known at the time, and what was known at the time and what was believed was that this was necessary," Cole said.
Cole is the co-author of a new Harvard University study on the Marathon bombing, its aftermath and leadership. She also lives in the section of Watertown where suspected terrorists were hurling homemade bombs, where bullets were flying and where residents were ordered—not asked—to shelter in place.
"How did it feel?" Cole responded. "Was it too big or too strong? It doesn't strike me that there is any pattern of this happening across America. It doesn't strike me that this was overly militaristic," she said.
Yet it certainly struck other residents of Watertown that way. A relatively small number of people, –it is believed—are pushing back against the larger narrative of acceptance. That is why Zakari and Mandal say they have put their art on a web page for the whole world to see.