The new play The Power of Duff finds Charles Duff down and out. He's a weathered, disenchanted anchorman at the third-rated station in a low television market.
With nothing to lose and mournful over the death of his father, one night he spontaneously ends his nightly newscast with a prayer. Then he does it again and again. It's a move that doesn't fly well with his colleagues or station management until audiences the world over begin vociferously supporting this unlikely prophet.
On Open Studio, I recently spoke with actor Jennifer Westfeldt, who plays Duff's co-anchor, a woman surprised to find herself moved by his religious messaging.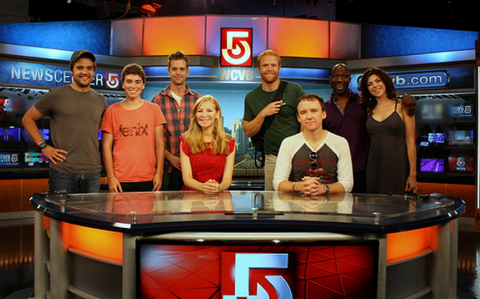 Photo Credit: Huntington Theatre Company
"I think it forces her to question her own life and a lot of what's been happening at home and her choices, and whether or not she's living deliberately," she said. "I think the play raises some great questions about faith and whether or not there is a god, and whether or not there is a distinction between spirituality, religion, humanism, where all of these blurred lines are."
Not to mention, as Duff also poses, where and why people suddenly find religion. 
See the Huntington Theatre Company's The Power of Duff through Nov. 9.