Niche businesses are popping up everywhere. Whether it's a hot yoga studio or the dog treat bakery, there is a growing trend in offering only one product or service. While it may be a sign of a growing economy, there are other reasons why super-niche businesses are taking off.
Entering Drybar on Clarendon Street in Boston feels like walking into any hair salon, but don't let the club remixes of pop songs and banter about celebrities fool you. Beverage options aside, they only offer one service: a professional blow dry for $40.  
Since it first opened in Brentwood, California in 2010, Drybar has taken off.  It's opened up more than 35 locations across the country and has acquired cult-like status with its clientele.
"It's been unbelievable," said Drybar founder Alli Webb in a phone interview. "We're doing over a 100,000 blowouts a month."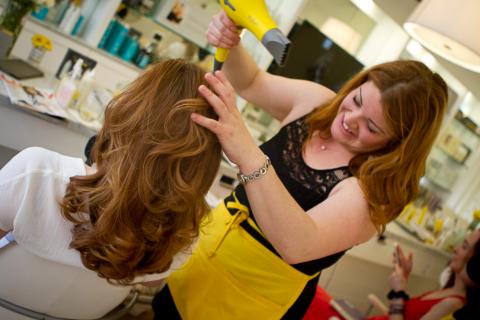 Photo Credit: Mallory Noe-Payne / WGBH
A few years back, Webb was a stay at home mom in the L.A. area who wanted to venture out of the house a bit more. A trained hairstylist, she started a mobile business by going to her friends' homes to recreate that feeling they got walking out of the salon-- without the whole cutting, dying, paying lots of money part.
Soon, she couldn't meet demand.
"What I learned from that whole experience was that women- my clients, and women really everywhere had two bad choices out there in the market," she said. "They could go to their cut and color salon and overpay for a blowout or go to the discount chain where the experience is off and you don't know what you're going to get."
While it may seem almost too simple to succeed, more and more of these blow dry-only salons are popping up. And they aren't the only niche businesses taking off. There are now lots of companies that focus on just one service, and one service only.
Spinning studio chains like Soul Cycle and Fly Wheel have developed a huge following. Whether it's the candlelit rooms or thumping beats to help you wheeze through your workout, hundreds of people keep coming back for more. And nichification is thriving elsewhere. Take Etsy, for example. It's a place to find anything from Elvis Presley pillowcases to hedgehog wedding cake toppers.
Renee Gosline, assistant marketing professor at MIT Sloan, said super-niche companies are succeeding because they appeal to us on a lot of levels.
"I think there's an element of luxury here. And that's often the feeling that people try to have with niche products. It's not necessarily customized for an individual but it feels special and it feels like "you get me and you get the people like me," Gosline said.
Which in turn helps us build our own brands as individuals.
For example, I may be the kind of person that likes loose curls for office meetings or pushups by candlelight. But luxury has been around for a long time and so has specialization -- just think the butcher, the baker and candlestick maker. What's different about it now? Gosline pointed to the rise of digital media as a conduit for the mega-niche trend. And not just because it's a place to point, click, and order.
"People like to be able to say, hey, you know where this came from, or you know who made this, or there's a really cool story behind this? Information and narratives have currency in this digital medium."
Gosline adds that social media has allowed people to spread the word about their products and themselves in a way that wasn't before possible.
"You share a compelling story, you share something new, something you discovered, something interesting," said Gosline. "And so niche innovations or brands are really well suited because you're not going to make a post about McDonald's generally because-- we get it."
With unlimited options and products all around us, we want to latch on to something with a story. And a lot of women can relate to the story of Alli Webb, the stay at home mom who started Drybar because she saw other women like herself who didn't want to spend a whole lot of money for a hairdo.
"I didn't want Drybar to be a place where you came in and you had a stylist who was telling you that you really could use a haircut or your color could look so much better if you used this. For me, I came into this business as both a stylist and a client-- and as a client, I know that I want to just feel good." Webb said.
A story that anyone can relate to. But as the company continues to grow -- with stores opening up overseas soon -- Webb is keeping to their core mission.
"I think having that attention to detail and focus on one specific thing, I've always felt that way throughout my career in doing hair that it's really hard to be great at several different things. But if you can focus on one thing that you're really good at, you probably will have a lot more success. "
A formula that seems to be working.