When most people think of farming, they think of the country life, but in Boston, commercial farms are sprouting all over urban neighborhoods and they are challenging our ideas of what a farm can be.
There are no rolling hills at this farm. The vista here includes cooling towers, boilers and TV antennas. That's because Higher Ground Farm is located on a rooftop, nine stories up in the middle of Boston.
That's where you'll find Courtney Hennessey and John Stoddard harvesting lettuce. It took the urban farmers two years to find this space – the flat expansive roof of the Boston Design Center.
"We were looking for a minimum of 25,000 square feet of space. Needed to have water access, needed to have a landlord that didn't think we were nuts. It needed to have either a parapet wall or a railing of some kind," Hennessey said. "We were actually looking at a building next door when we discovered this building."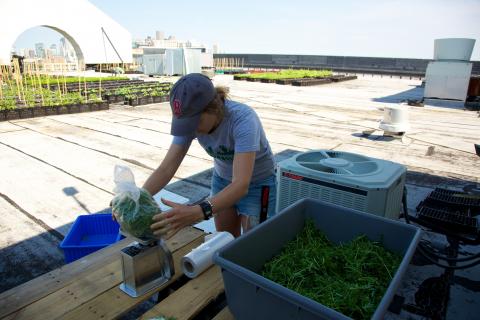 Photo Credit: Patricia Alvarado Nunez / WGBH
The idea was to build a farm close to area restaurants and stores. And that's just what they're doing -- growing tomatoes, salad mix, and herbs – all delivered by Stoddard on his bike. Hennessey says that being in the city enables them to deliver some of the freshest produce around. 
"We have been known to take an order, harvest it, and deliver it within 30 minutes. So that's kind of quicker than pizza," she said.
Like any rooftop garden, Higher Ground Farm uses containers -- a lot of them. Some 1,400 milk crates, each lined with a filter fabric, filled with a custom soil blend and brought up to the roof one by one.
"We have an elevator that goes to the 8th floor and then we have to walk everything up and down 2 flights of stairs to get it to our customers. It's a good workout," she said.
But getting up and down is not the only challenge for a rooftop farm. 
"We don't have things like squirrels and deer. We do have things like wind and sea gulls are our two biggest problems," Hennessey said.
Despite these obstacles, John Stoddard says they managed to produce over 2,000 pounds of food in their first year – and hopes for more this year. 
"Hopefully well grow 6,000 pounds of food, so it's really a lot of food that you can grow in a small space," Stoddard said.
Growing in small spaces would also describe Shawn Cooney's approach to farming in the city. The former tech entrepreneur recently converted an empty space behind an East Boston tow truck lot into the new home of his urban farm, Corner Stalk.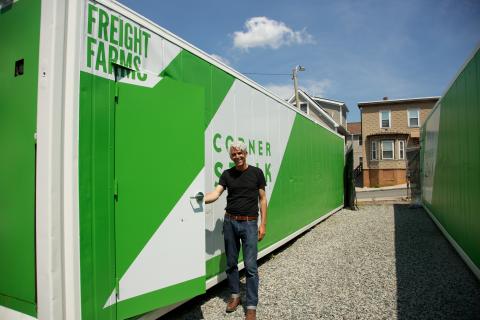 Photo Credit: Patricia Alvarado Nunez / WGBH
"We can grow lettuces, kale, we can grow things like anise and fennel and any kind of herb and right at the moment were growing basil," he said. "Our friends have gone from thinking were crazy to basically thinking its kind of interesting and they're waiting for the open house so they can come down and hang out and see what it really is all about."
What makes Cooney's farm truly unusual is that it's made up of four green and white shipping containers – the same kind you see pulled by semi-trucks on highways across the country.  The containers were transformed into small hydroponic farms using vertical planting towers, drip irrigation, and L.E.D. grow lights.
"A one unit grows about 6,000 plants and that translates to about 60 pounds of basil a week per unit, year round," Cooney said. That's the same yield as a traditional one acre farm plot. 
"We could easily put dozens of these containers in places that you couldn't realistically even do an urban farm, this is part of a brown field, which is very questionable what you could actually do here," he said. "Because we went into it very green, we just pushed forward with the goal in mind."
And for people in the city, "down on the farm" might just mean down the block.