Mental health care specialists took to Beacon Hill Wednesday to urge lawmakers to improve access to behavioral services, laying out what advocates say the state should pay for to truly aid the mentally ill.
Lawmakers heard from clinicians, therapists and other health care providers, as well as representatives from health insurance companies, on how the state can better help patients get the mental health services they need.
Lisa Halpern works with the Cambridge human services organization Vinfen and lives with schizophrenia herself. She testified that peer specialists — counselors with similar conditions to patients — provide a preventative measure the state's Medicaid program should pay for.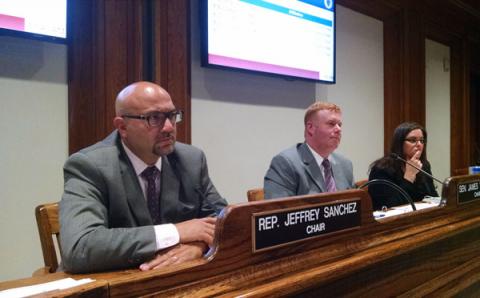 Photo Credit: Mike Deehan / WGBH News
"They keep people out of the hospital, they're efficacious, they keep people in high spirits and they work," Halpern said.
Other issues the committee took up included payment for hospital room stays, a study of teen suicide, price negotiation among providers, substance abuse, medical records and health parity.
The Joint Committee on Health Care Financing is chaired by Rep. Jeffrey Sanchez of Boston and Sen. James Welch of West Springfield.
If any of the bills heard Wednesday get approved by the Health finance committee, they'll go on to committees that determine how much they'll cost before going before the full Legislature.