U.S. Rep. Ed Markey was greeting shoppers at Roche Bros. supermarket in the deeply Democratic neighborhood of West Roxbury.
He was joined by local Democratic officials and Ed Kelly, president of the firefighters union, which has endorsed his campaign.
Kelly says he thinks Markey would be a great voice for working people on the floor of the Senate.
"Eddie Markey has a 97 percent labor record," he said. "He's done a tremendous job for the past 37 years in congress. So I'm very confident the firefighters will come out for Ed Markey."
It was yet another example of Markey trotting out interest groups to campaign for him.
Throughout the race, Markey has used a conventional Democratic strategy.
He is stitching together a traditional Democratic coalition, meeting with African American ministers, mayors from across the state and labor unions. And he's banking on them to campaign on his behalf.
Tufts political science professor Jeff Berry says Markey isn't trying to broaden his appeal to independents. He's confining his campaign to people who already agree with him.
"He's more or less saying, 'I've been there, I'm for you, I'm a steadfast liberal,' and all of that's true and it appeals to the democrats in the race," Berry said. "But he's not doing what he might want to do to try to capture more of the independent vote. I think he feels his advantage is being a Democrat and turning out democrats on Election Day."
Democrats outnumber Republicans in the state three to one. That math plays to Markey's advantage. Berry says Markey has to get them to the polls and hope nothing dramatic happens to shake up the race from now until June 25.
To that end, the state Democratic Party is brushing off its mighty get-out-the-vote machine which helped deliver the last Senate election to Elizabeth Warren.
John Walsh, the chairman of the state Democratic Party, says grass-roots, get-out-the-vote organizing is a critical component of the Markey strategy.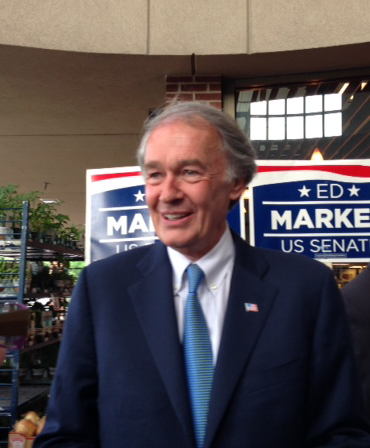 Photo Credit: Sarah Birnbaum / WGBH
"In a race like this, the capacity to have face-to-face conversations can really be determinative of the results of this election," Walsh said. "It means dozens of offices, infrastructure, around the state. I think we're up three times the number of paid field organizers to support the volunteer effort, so when the volunteers show up for a phone bank or a canvas, their lists are ready, their training is ready, their reporting gets done."
Markey is also using the airwaves to reach out to Democrats and liberal leaning voters. His ads work to nationalize the race on issues like gun control and taxes.
"Real differences in the race for senate," one ad says. "Ed Markey wants fairness in our taxes."
At public appearances, like the one at Roche Bros. grocery store, Markey continued to draw sharp lines of distinction between himself and Gomez on the issues likely to appeal to his democratic constituency.
"Gabriel Gomez opposes a ban on assault weapons, opposes a ban on high capacity magazines," Markey said.
Just six months ago, Elizabeth Warren linked Scott brown to the national GOP agenda every chance she could a strategy that doesn't work in every state. But in deep blue Massachusetts, Markey's campaign is hoping it's a strategy that will win.