You might have heard the recent news that the bones of King Richard III were found buried beneath a parking lot in England. That got us wondering: What might be buried beneath our streets? As it turns out, the answer to that question lies on the second floor of an unadorned, yellow building at the end of Rivermoor Street in West Roxbury.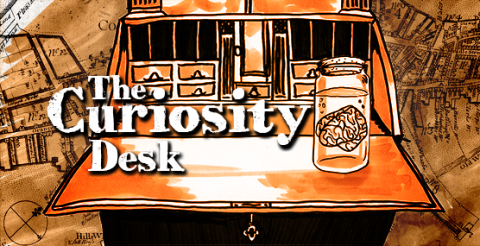 That's where Joe Bagley spends the lion's share of his waking hours. Does he wear a fedora and leather jacket? No, he's more of a khakis and t-shirt kind of guy. Does he carry a whip? As far as we know he doesn't even own one. But make no mistake: Bagley is Boston's very own Indiana Jones.
As the city archeologist, he not only heads up the city's archeology program, but he presides over the archeology lab — and 7,000 years of human history once buried deep below the Hub's bucolic parks and busy streets.
"We've done surveys all over the city," Bagley explained. "Digs from Charlestown to Dorchester, way out to Brook Farm in West Roxbury and even on Boston Common. We have a lot of sites represented. About 1,700 boxes."
Nine hundred of those boxes alone come from a major archeological survey done in Charlestown's City Square Park during the Big Dig.
That bounty is the silver lining -- so to speak -- of the American colonists defeat at the hands of the British during the Battle of Bunker Hill on June 17, 1775.
"Because Charlestown was completely burned to the ground, we have a really good snapshot of what was going on in Charlestown," Bagley said.
Among the treasures recovered there were wine bottles, tumblers and … umm … plenty of chamber pots from the Three Cranes Tavern — a popular watering hole.
A handful of cannonballs from the battle itself underscore just how desperate the fighting was that day.
"They're what we call a bar shot -- three different cannonballs connected together by an iron rod," Bagley said. "Normally they would be used to take out ships in the harbor, but in this case they were being fired form the North End to Charlestown. The fact that they were using them means that they were throwing everything they had at Charlestown."
While many of the artifacts in the lab come from the 17th and 18th centuries, digs on Boston Common and Brook Farm in West Roxbury have unearthed some of the lab's most precious treasures, like an arrowhead once fired by a Native American hunter; remains of the Boyleston Street Fishweir; and the tip of a spear that is some 5,000 to 7,000 years old, made from stone that comes from the Blue Hills in Quincy. These items serve as stark reminders that the American colonists were not the first people to call Boston home.
As exciting as the lab's highlights are, they are hard earned. The majority of the work consists of painstakingly combing through thousands of boxes, and the small shards they contain, re-cataloging the entire collection, item by item.
"We have a catalog but by today's standards it's out of date. It's a paper catalogue and we want to make it digital so we can have researchers from around the world get all the data they could need. Publish it, get it out there let people know about the history of the city.
It's a task that Bagley figures will take about 10 years to complete. If that sounds like a long time, consider that Bagley is an army of one. With no staff and no budget, he relies on volunteers to help him comb through the nearly one million artifacts he estimates are buried in boxes.
One of those volunteers is Boston University grad student Sarah Keklak, who has spent the past few months curating the lab's very first public exhibit. It examines the history of Brook Farm in West Roxbury – a site that over the past 5,000 years has been a Native American hunting ground, an experimental transcendental utopian community, a civil war camp and an orphanage.
Bagley hopes this show will be the first of many. It's just one small part of his quest to raise awareness of the city archeology program and what it has to offer.
"It's a lot of tedious work," he said. "But the amount of information you can get out of a single thing is so great that everything you touch has a story. It's all a little mystery. Every artifact is a little mystery."
A million little mysteries that Joe Bagley and his team of volunteers are uncovering — one box at a time.