From the wilds of Rudyard Kipling's India, to a classic Disney Film, The Jungle Book's latest chapter is a new musical.
Based on Kipling's own childhood in India, The Jungle Book follows the young orphan Mowgli coming of age under the tutelage of his animal friends and mentors. But, said Mary Zimmerman, the musical's Tony-winning director, we are all written into The Jungle Book. 
"It's a leaving of the Garden of Eden," Zimmerman said. "It really is leaving the jungle that all of us have to go through. Leaving the wonderment of childhood into the world of adult power but also the loss of the natural world."
Commissioned to create the musical adaptation several years ago, Zimmerman said she was immediately mindful of Kipling's own harrowing story—when, at the age of 8, he was left by his parents in a brutal British boarding school.
"It was really terrible place, and Rudyard Kipling and his sister were very profoundly physically abused and possibly sexually abused," she said. "And for Kipling to write about this more than once, in his fiction and his autobiography, you know that he considered it a very serious and life-changing or shaping element of his life."
Translating the look and sound of Kipling's India
In his later stories, Zimmerman said Kipling yearned for the India in which he was first raised. The India where she also took her creative team to begin adapting the piece.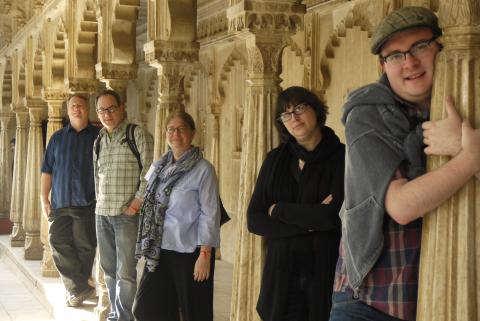 Photo Credit: Courtesy of Huntington Theatre Company
"We're just gathering, gathering, gathering impressions and feelings and literally the way the light is sitting through a certain window," she said. "The way a bird flew up. It's just sort of endless."
One of the biggest hooks though was the Indian music which music director Doug Peck infused with the film's jazz score for a rousing mash-up. 
"Indian music doesn't use harmony in any sort of Western sense, however what they do use is tremendous melodic and rhythmic complexity, and always a goal that the music making is very vocal, very soulful," Peck said.
All of the show's creators are mindful of the weight of toying with a story, imagery and music known to millions, thanks to the film. But Zimmerman said she both visually and musically quotes the film. She and Peck also had the added benefit of access to Richard Sherman, who along with his brother Robert, made wrote most of the original music, including songs that didn't make it into the film. 
"He has genius advice on arrangement," Zimmerman said. "And he has such show biz acumen. And it's of a certain period, so it has great charm."
Proving that not unlike Kipling, you can go home again.