John A. Walsh, author of the historical fiction web comic "Go Home Paddy," raised $5,800 using the crowdfunding website Kickstarter last year.
Walsh, 38, used the proceeds to upgrade his South End studio -- buying new computer equipment and a new drawing table -- so he could finish the remaining 60 or so remaining pages more efficiently than he did the first 200. Walsh draws the strip with paper, pencil, pen and ink, before scanning the art, and adding text and colors digitally.
"It's a long process, but well worth it," he said.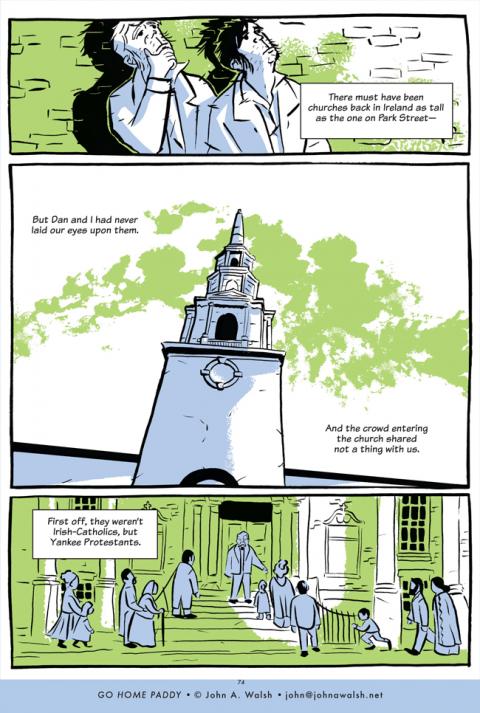 Photo Credit: John A. Walsh
The comic follows Paddy Brennan, a refugee from Ireland's Great Famine, as faces bigotry after arriving on the shores of mid-19th century Boston.
Walsh draws Paddy in the ape-like style common for depictions of the Irish in editorial cartoons of the day.
"By using that old visual stereotype, I wanted to present the Irish as transcending that old racist bull," Walsh said. "I also wanted to show the similarities in the way the Irish were stereotyped with how blacks were and are, as well as Hispanics."
Walsh works as an illustrator and graphic designer.
"I guess some people can make a living doing web comics, but for me, any money from 'Go Home Paddy' would likely come from a printed edition," he said.
Walsh plans to release that print edition of "Go Home Paddy" once it's finished, but he's not sure what his next project will be, other than to say it likely won't have anything to do with Ireland.
"Maybe something much more light-hearted than 'Go Home Paddy,'" he said.
Walsh said he's gotten a strong response from the comic.
"I know it's being read on a couple of continents -- so that can't be too bad," he said.