WGBH contributor and Homeland Security Expert Juliette Kayyem, who served as former Governor Patrick's Homeland Security Advisor and had a seat on the Joint Terrorism Task Force, revealed analysis and insight involving a possible Boston terror plot against law enforcement officers.
Kayyem outlined to WGBH Morning Edition host Bob Seay, three main reasons why the investigation stemming from the shooting death of a man in Roslindale Tuesday is red-flagged as "serious" in her mind.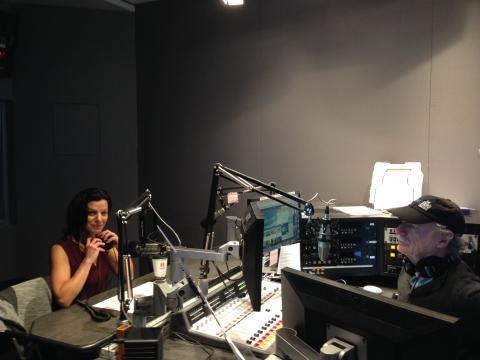 Photo Credit: courtesy: marilyn schairer
Kayyem says indicators dictating a deliberate Joint Terrorism Task Force investigation was ongoing and not just a mere checking into suspect 26-year old Usaama Rahim, include the fact that he was under 24-hour surveillance for several weeks before he was shot in a CVS parking lot yesterday.  Officials say Rahim lunged at a police officer and FBI agent with a military style knife, when they approached him for questioning, and that's when he was shot and killed.
Kayyem says the FBI and Boston officers "approached Rahim outside, during the daytime hours, which is the least coveted time for law enforcement." 
Kayyem says from the facts disclosed yesterday, "the FBI wanted to interrogate him possibly based on something that had come through. "
Thirdly, also pointing to the seriousness of the confrontation Kayyem says,  "the FBI and Boston Officers rarely approach a subject together, generally one jurisdiction or one agency has jurisdiction or another and this was truly a joint investigation."
The latest information on the investigation is that second suspect, David Wright of Everett is expected to be arraigned on federal charges Wednesday afternoon. The third prong of the joint investigation is taking place in in Warwick, Rhode as authorities search a home that is related to the anti-terrorism probe.
According to Special Agent in charge of the Boston Office of the FBI, Vincent Lisi, 26-year old Usaama Rahim was under 24 surveillance for several weeks before he was shot in a CVS parking lot in Roslindale yesterday.
"I don't think anyone expected the reaction we were going to get out of him and that's why we had the tragic turnout here," said Boston Police Commissioner Bill Evans.
Officials say Wright and Rahim were reported to have plans to behead a police officer.
Rahim's lunge was caught on cameras and authorities have said they will release the video, possibly to those in the Muslin community first, then to the public.
This most recent incident has once again thrust Boston into the limelight involving  a possible terror plot by individuals who may have been radicalized by ISIS.  Kayyem tells WGBH, "We are an urban population, we are an international population, and we are a youthful population," said Kayyem. "Those three things in any city, are sort of the groundwork for radicalization whatever the ideology is."
To listen to the entire interview with WGBH's Bob Seay and WGBH contributor Juliette Kayyem click on the audio file above.