The family of the Usaamah Rahim, who was killed by law enforcement officers earlier this week, gathered on Thursday in the Roslindale parking lot where he was shot. An attorney for the family said they're calling for a transparent investigation into his death.
Imam Abdullah Faaruuq of the Mosque for the Praising of Allah in Roxbury arrived at the CVS parking lot where Rahim was killed before Rahim's family, who were arranging his burial, did.
Faaruuq said finding a cemetery was complicated because Rahim was a suspected terrorist. He prayed that God have mercy on Rahim, and those who killed him.
"I don't know what his faults were, I don't think that whatever transpired warranted him being killed," Abdullah said. "I also want to pray for the officers who were involved, that God will guide them, because they have families and I don't know how strongly they take it that they have murdered a young man that they well could have captured."
Officials say officers shot Rahim in this CVS parking lot after he lunged at them with a military-style knife. He'd been under 24-hour surveillance by the regional terrorism task force, and prosecutors allege he was plotting an attack on police when he was approached on Tuesday. Faaruuq was among the community leaders who was shown video of the incident. He called the officers reckless.
"There's a school bus that actually goes around the turn just right along the time that they were firing on him," Abdullah said.
An aunt of Rahim, who identified herself only as Karen, said she hadn't planned to speak publicly, but changed her mind after a reporter questioned what would have prompted Rahim to challenge police.
"With the current slaughter of black men going on across the nation, that's enough to make any and all black men feel threatened," she said.
And she said her nephew's religion affects how the incident is perceived.
"If it wasn't for him being Muslim, then we would not be hearing terrorism," she said. "We would not be hearing ISIS."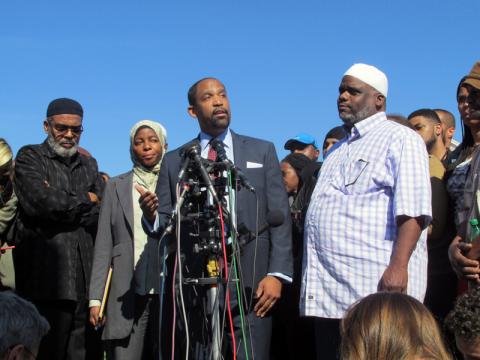 Photo Credit: Craig LeMoult / WGBH News
Attorney and Harvard professor Ronald Sullivan Jr. spoke for the family, and said they're shocked to hear reports that Rahim had been radicalized and was involved in a terror plot.
"That comes as an absolute surprise to the family," Sullivan said. "They had not perceived any conduct or change in demeanor consistent with those reports."
Sullivan described how the family viewed Rahim.
"They have described him as an energetic young man trying to make his way in this world," he said. "Very young man, obviously. But nothing about that description was outside of the boundaries of normalness."
Rahim's brother, Ibrahim, was a well-known Imam in Boston for many years. His initial response when he heard of his brother's death was a Facebook post saying Usaamah had been shot in the back while talking on his cell phone. The family's attorney, Sullivan, walked back from that statement.
"So he relied on a statement from a third party that turns out at least significant portions of those statements were not true," he said.
The Rahim family met with Suffolk County District Attorney Daniel Conley last night and watched the surveillance footage from the shooting. In a statement, the DA's office promised a thorough, impartial, and unbiased investigation into what happened in this Roslindale parking lot on Tuesday.