The solution to homelessness seems simple: Get housing for people who don't have it. But not all housing is created equal. For many of the homeless, a permanent place of their own is a Holy Grail of sorts — but getting one isn't easy.
When Dede Diggs leaves her job at the Arsenal Mall in Watertown, her trip home to Dorchester is draining. She hops two buses, stops in Dudley Square to pick up her son, and then takes a third bus she'd rather avoid.
"That 28 is not a very pleasant bus to be on," Diggs said. "Especially during the evening. That's when everybody, you know, you got kids coming home from school, and people who been drinking since the sun done come up."
But one key factor makes the trek bearable: Diggs is going back to a place of her own, instead of the hotel that served as her de facto homeless shelter.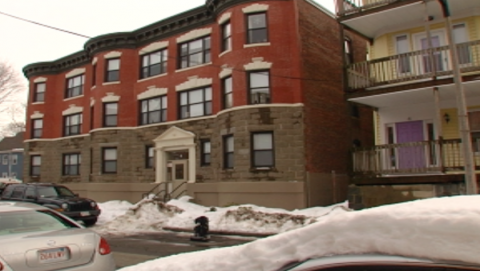 Photo Credit: Greater Boston
"The main thing for me was not having a kitchen to cook my kids' food," she said. "It was either McDonalds or IHOP or pizza, and that gets pretty expensive, and it's not really nutritious for your kids, as well."
Add to that a lack of privacy and restrictions on visitors, and Diggs felt like a failure.
"I felt like the world's worst mom, putting my kids through that," she said. "I just couldn't wait to get out of there. Many nights I would sit there and I would cry myself to sleep, going through that, because it was taking its toll on me."
But now, Diggs finally arrives at a real home at the end of the day.
"This is my son's room, that's my son and his friend Mali," she said. "You have the bathroom right here, then here we have my daughter's room. And here we have my nice big spacious kitchen. This is my favorite part, because we didn't have it for so long."
The place feels big, but Diggs isn't sure of its exact dimensions.
"I just know is it's mine," she said.
That's because Diggs landed a unit that's set aside for homeless families — and pays 30 percent of her income for a place she otherwise couldn't afford. After months of transience, Diggs says the benefit of permanence is huge.
"Freedom," she said. "It's freedom to me. I feel like a mother again. I can provide better for my kids. They can have friends come over. They can be kids!"
That's a change that Diggs's daughter, Azariyah, relishes.
"When we lived in the other place, we all shared a room," she said. "I was okay with that. But now here I have my own room. I can put posters in it, have friends over more. So I like it here."
But it's not just the freedom to decorate that she treasures.
"I like writing stories," she said. "That's what I use some of my notebooks for. But I didn't really write in the other apartment, cause I didn't have notebooks and privacy, cause my brother would try to read it, even though he couldn't read. But he'd always try to read it. And now here, I can just shut my door and write whatever."
If the benefits of permanent housing are clear, how to provide it isn't — especially at a time when federal affordable-housing programs have been drastically cut. But Diggs says society has to try.
"Even if they don't have the whole development for people in that situation, at least have some," she said. "Because a lot of people — there's jobs out there that still pay you minimum wage, like my job. There's no way I could ever afford market rent for an apartment."
And yet Dede Diggs has a place to call home anyway — which makes her one of the lucky ones.
Boston Chief of Housing Sheila Dillon and Heading Home Executive Director Tom Lorello joined Greater Boston to talk about finding permanent housing for the city's homeless: