Race has been a loaded topic in Boston politics ever since the busing battles of the 1970s. Now, as the city prepares to elect its first new mayor in two decades, race is playing a role yet again – but exactly how it'll shape the outcome is anybody's guess.
Case in point: a recent mayoral forum in Dorchester that was focused on issues impacting Boston's communities of color and drew a standing-only crowd.
Outside, as supporters of the various candidates waved signs and hollered at passing vehicles, the most passionate contingent belonged to former state representative Charlotte Golar Richie, who's hoping to become Boston's first black mayor. But Golar Richie's supporters – who were largely African-American - insisted that her appeal transcends race. 
"We have people from all walks of life," said Alda Witherspoon, a Golar Richie campaign worker. "We have Haitian, we have Cape Verdean, we have white folks, we have black folks. There's really a cross section of people."
For her part, Golar Richie notes that race is just one of several demographic factors that could influence how people vote in the September 24 mayoral primary election, which will winnow the field of candidates from 12 down to two.
"We could talk about gender," Golar Richie said recently during a recent campaign stop at Dorchester's South Bay shopping center. (Not coincidentally, Golar Richie is also hoping to become Boston's first female mayor -- and her campaign website refers pointedly to the fact that she's the only woman in the race.) "We could talk about economics, and the socioeconomic status of people who are voting," Golar Richie said, adding, "Where are they going to invest their time and energy?"
In her new campaign advertisement, though, Golar Richie's campaign strikes a different note. The ad, which features an endorsement from Academy Award-winning actor Louis Gossett Jr., puts race front and center.
"For the past 20 years I've worked toward defeating racism of all kinds," Gossett says as the ad begins. Later, he adds: "Charlotte Golar Richie represents an agenda of openness, equality, and opportunity for all."
Golar Richie is just one of several candidates hoping to become Boston's first mayor of color. Half the 12-candidate field fits that bill -- including John Barros, whose family hails from Cape Verde.
As Barros traverses Boston, he's slow to embrace the mantle of racial trailblazer. Instead, he campaigns as a unifier.
"We have a lot of diversity in this room," Barros said during a recent visit to a senior center in Jamaica Plain. "This is a beautiful room. This a room that's representing Boston, and the best of Boston."
But Barros is also willing to tackle potentially incendiary matters like the intersection of race and crime head-on. During that mayoral forum in Dorchester, he contrasted the political response to the recent murder of South Boston resident Amy Lord, a young white woman, to the response elicited by murders in communities of color.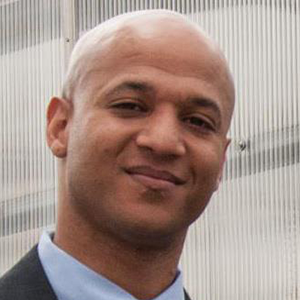 Photo Credit: Barros for Boston
"I wanted to show my support so I went to South Boston, to an overflow crowd, rightfully so, for a life had been lost," Barros recalled. "But in that crowd onstage there was a federal government representative, the head of the DEA, a congressmen, we had the state represented, we had our district councilor, we had the chief of police.
"We had so much political power on that stage that I forgot I was in Boston," Barros added to loud applause. "Because in my city, when people die in my neighborhood, we don't get that kind of response."
With Boston's minority residents comprising a majority of the city's population, the time seems ripe for the city to break the mayoral color barrier. Recently, that prospect prompted some African-American leaders to push other black candidates to drop out and boost Golar Richie – a clumsy attempt that sparked a backlash.  
"When you have leaders who don't believe in the community enough to trust them, it's heartbreaking," says Malia Lazu, the executive director of the civic group Future Boston Alliance and founder of the advocacy group MassVOTE. "A majority of black people and people of color, they don't subscribe to those politics anymore."
Lazu argues that people who want racial and political progress should embrace Boston's mayoral field in full. But she also says it's simplistic to assume minority voters will vote for minority candidates.  
"Since when do we need a candidate of color to represent voters of color?" Lazu asks."We've all evolved. Whites aren't the same white people. People of color aren't the same people of color.
That argument comes with a caveat: Lazu has donated to the mayoral campaign of city councilor John Connolly, who is white. Still, Golar Richie seemed to agree with Lazu's point.
"People of color will absolutely be a factor in the election on Tuesday – there's no doubt in my mind about that," Golar Richie said. "They will not, however, vote for a candidate of color simply because that person has darker skin tone. They're going to vote for the person they believe will be most effective in addressing their needs, their issues, their aspirations."
In other words, race still matters in Boston politics. Just not like it used to.