Sitting around his kitchen table, firefighter James Harding listens to a replay of audio from fire dispatchers and crews on the ground as the Beacon Street fire blazed out of control, fueled by 45 mile per hour winds.
"I want all members out of the building!" a voice on the scanner shouted. "All members out of the building!"
When the second, third, fourth and other alarms were struck on Wednesday, and Engine 33 already on the scene, James Harding —who was off that day taking care of a sick child — felt a sense of longing and helplessness.
"It was really tough listening and hearing, and I'm getting calls from pretty much all over the country telling me, 'Hey, there's a fire in Boston. What's going on over there?'" Harding said. "And that's my old house! I know those guys. I was in Ladder 15 for three years and I know those guys. I can see myself being in that building with them."
James Harding, a 17-year Boston fireman, first met Eddie Walsh in 2005.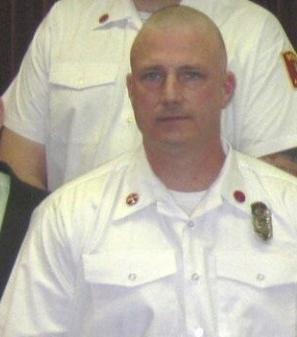 Photo Credit: Boston Fire Department
"I was one of the guys that broke Eddie Walsh into the job when he came on Ladder 15," Harding said. "I was in Ladder 15 at the time when that class came in. He looked like a firefighter. I looked at him like, 'Are you sure you're not already on the job?'"
Harding chuckles at the memory.
"He looked like the typical what-you-think-a-firefighter-will look-like, and he had the right, very calm demeanor," he said. "You know, just easy going. He had that firefighter's mentality where there wasn't too much above him, especially if he knew what he had to do."
Standing over six feet tall and broad-shouldered, Walsh, says Harding, was not the type of new guy on the job whom you ribbed.
"There's a lot of humor coming onto the job, especially with the S.F.O.P.'s, which are the firefighters on probation," He said. "But there weren't many jokes going his way."
Harding laughed.
"It's great making fun of the new guys but he was one of the new guys you really didn't make fun of," he said. "He was a big dude."
But at the same time, says Harding, Walsh laughed — a lot.
"He was a funny guy," he said. "Every picture you see of this guy he has a great big smile on his face. Life was good for him. He got promoted within ten years of the job. This dude was going to be going places. He was one of the guys, man."
James Harding, an African-American fireman originally from Liberia now working in Hyde Park, said that firefighters, in the final analysis, see themselves as a transnational, transracial band of brothers and sisters.
"It's almost a welcome-to-your-brothers for the rest of your life kind of thing," he said. "You welcome him to this new family and all you have to do is do your job."
And that was the club that Walsh was welcomed into in 2005. Walsh had just been assigned to what Harding called the most challenging and most coveted of all firehouses in Boston.
"That house, that company, you don't go there and expect to be sitting in the firehouse all day," he said. "Those companies worked! Those are working companies. That whole area is the most congested part of the city. You can find yourself in a tunnel, on a highway, in a high-rise, underground, in water, fighting a triple-decker. If you want action, you go to that house. You go to those companies. You will see everything in those companies — 33 and 15. They're storied companies."
And from this fire station is where nine firemen in 1972 set off from and to where they never returned; lives lost fighting the Vendome Hotel fire.
"The Vendome was right down the street from them," Harding said. "I don't know what it is about that part of Boston, but those buildings, how they were built and the ground they sit on."
And Harding wonders about the building at 298 Beacon St. As the dispatches from the scene became more urgent, Harding became more concerned and says, "I wanted to be there. I wanted to go down and turn on the … " His voice drifts off. He stares toward the window, silently.
At one point Walsh, trapped in the basement of the Beacon Street brownstone, is heard to call for water.
Harding interprets the calls not as a sense of chaos, as he believes some have implied in the media. Walsh's call for water, says Harding was the call from a man doing his job.
"That was tough hearing that, but I know that guy who was on that pump that was trying to get him water because he knows his guys are in that building," he said. "They were in the building for not a very long time. They were in the building very soon after they called for mayday. So it's very possible they could have walked into something that they didn't expect, which is really the nature of our job. You know, we could see the most benign atmosphere and walk in and find yourself in hell."
It was at this point that Harding, who helped Walsh settle into the job at Engine 33, becomes quiet, contemplative and reflective.
"In closing, I just want to say Godspeed to his young kids," Harding said. "I didn't know Mike Kennedy, but Godspeed to him and his family. I feel like I've lost part of my family."