Around the country yesterday, more than 100 fast-food protesters were arrested for disorderly conduct during organized rallies. Nine were arrested peacefully in Boston.
The workers' "Fight for 15" campaign is an effort to win a $15-per-hour minimum wage from some of the nation's largest employers, particularly McDonald's.
While it has been involved for two years, the Service Employees International Union is having trouble organizing workers who won't — or can't — leave their shift.
It's hard to say whether the protests have helped bring about wage increases in cities and states where they have occurred.
"Hold the burgers, hold the fries, make our wages supersize," the workers chanted in Downtown Crossing.
A total of eight fast-food workers were peacefully arrested after sitting in the streets. They came from McDonald's, Burger King, Popeye's and Dunkin' Donuts.
"I came here today to fight for what's right," said 20-year-old Erica Concepcion. "I feel like everybody deserves better."
Concepcion wears her brown, pink and orange uniform even though she told her manager at Dunkin' Donuts she was taking the day off. Concepcion makes coffee and breakfast sandwiches for $8.50 an hour.
"Minimum wage nowadays is not cutting it," she said. "Gas is expensive, food is expensive. Sometimes people don't eat, and it's really upsetting."
Concepcion lives with her mother and brother in Roslindale and says she wants to contribute more to the family's income. Her only concern about a raise? The possibility of cutbacks elsewhere.
"I'm just afraid that if we do get paid $15 an hour a lot of people won't have jobs," she said. "Or they'll cut their hours down and it's not fair."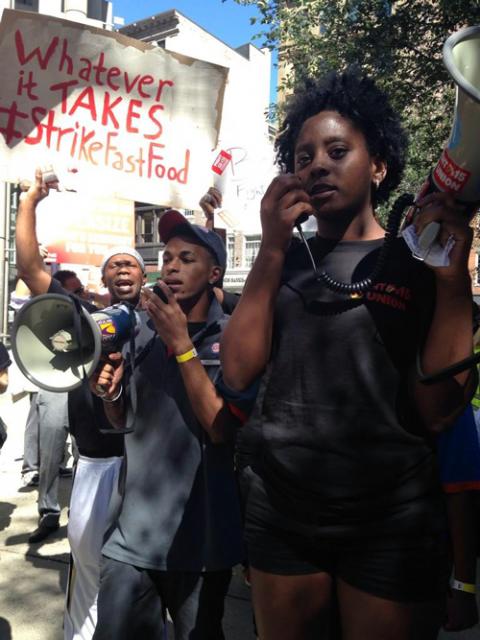 Photo Credit: Anne Mostue / WGBH News
In Boston, the protesters did not seem to have much of an impact on fast food businesses. Standing outside a Burger King, one customer wasn't sure about $15 an hour. He offered only qualified support.
"Well, that's more than what I get," he said. "I think they should get it if they do their job efficiently the way they're supposed to — they're dependable, consistent — I think they deserve it."
The Fight for 15 rally started at the State House, with a small crowd of fast food workers. They were flanked by dozens of labor organizers and supporters. Together they marched to a nearby McDonald's, but none of the employees inside joined the protest. Instead they continued working, declining to speak to reporters except to say they couldn't afford the time off. That's part of what's making this a tough movement.
"In June you saw more than a thousand low-wage workers from across industries unite for a series of wage action rallies across the state," said Jeff Hall, a spokesman for the Service Employees International Union. "So this campaign, this movement, is gaining momentum and it's not just about fast food workers. You see today that home-care workers are joining the Fight for 15."
Home health-care workers joined the rally but were not arrested for disorderly conduct. Union organizers say the movement has helped to raise the minimum wage in Connecticut and New Jersey. But the National Restaurant Association calls the Fight for 15 movement "orchestrated union P.R. events where the vast majority of participants are activists and paid demonstrators."