A year ago, the unthinkable happened. For the first time, a person was diagnosed with Ebola in the United States. A Liberian man, Thomas Eric Duncan, infected two nurses in a Dallas hospital before he died.
Nurses across the country were shocked, including Boston Medical Center's Karen Higgins, a nurse for 40 years and co-president of the largest nurses' union in the country, National Nurses United.
"We were not ready, and then we ended up seeing two nurses that got infected," she said. "That was a huge eye opener for all of us, and I think it scared us."
Higgins and her union lobbied for better protections and training for nurses. She says her own hospital was responsive.
"That is the one thing I will say — it was amazing that Boston Medical Center really stepped up quickly," she said.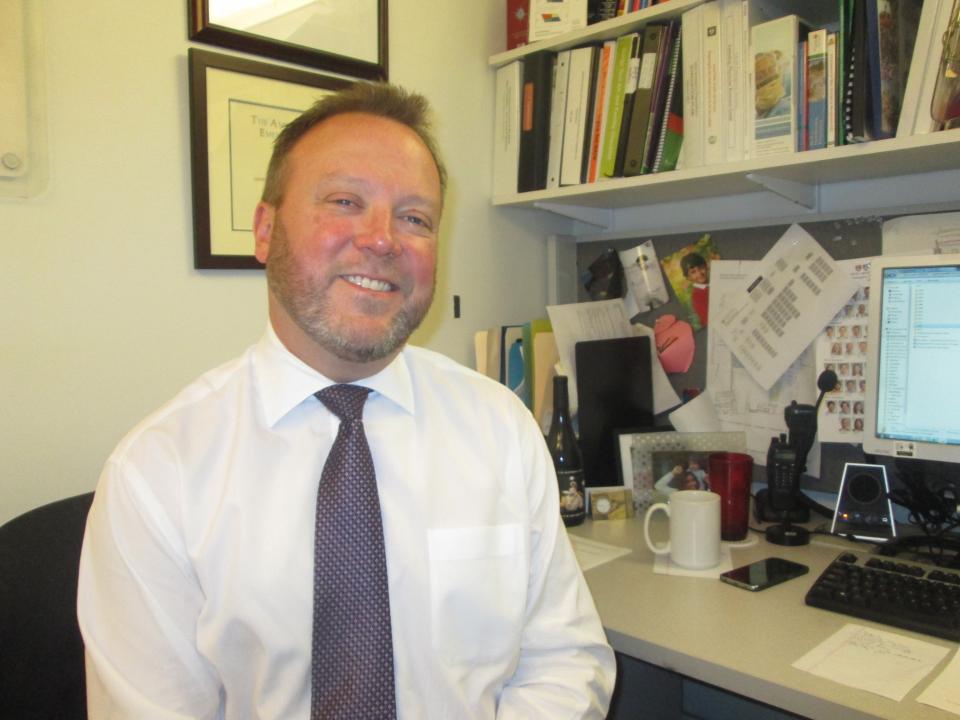 Photo Credit: Elizabeth Ross / WGBH News
Higgins and other nurses at BMC were trained in the proper use of protective equipment, she says, including "how to get in and out of the actual precautions that we should be using, which is the one-piece suit, which is what they call a respirator hood, and the most important thing: how to put on gloves."
The outbreak also spurred the federal government to create a new system for responding to Ebola. As part of the system, the Centers for Disease Control and Prevention designated 55 hospitals around the country as Ebola treatment centers, four of which are in Massachusetts.
If a patient came into BMC today and was suspected of having Ebola, they would likely be transferred to Massachusetts General Hospital, which is one of those four facilities.
Dr. Paul Biddinger sits in his office at Mass. General, where a bright red poster hangs that says, "keep calm and carry on" — appropriate words for Biddinger who directs emergency preparedness at the hospital.
"With Ebola, we certainly saw the challenge of an infectious disease outbreak that requires extraordinary attention to detail with personal protective equipment," Biddinger said.
He believes the new tiered system is the most efficient approach.
"I don't think it's possible to train every nurse [and] every physician on the front lines to be proficient in Ebola-level personal protective equipment," he said.
Biddinger acknowledges the concerns of nurses at other hospitals that may not have the same level of training and equipment that is available at Mass. General, but if those on the front lines follow basic procedures, he believes the risk is minimal.
"As long as they know how to identify and isolate those patients and initiate transfer, when it's confirmed that a patient is indeed at risk for a disease like Ebola, [it] makes much more sense in terms of proficiency and use of resources," he said.
Ebola is still very rare in the United States, but Biddinger explains that the focus on preparedness is much broader, and includes all sorts of dangerous bugs.
"Much more likely are outbreaks of other emerging infectious diseases, particularly airborne transmissible diseases such as MERS, the Middle East Respiratory Syndrome," he said.
That's why the federal government has designated Mass. General as one of nine "super centers" that can treat patients not only with Ebola, but also other deadly pathogens like MERS.
"We have modified some of our physical spaces to be at the highest levels of containment and isolation to care for patients," Biddinger said. "We also have put an extraordinary amount of effort into laboratory testing."
Still, most infected patients will show up first at smaller community hospitals and clinics, and that is what worries nurses like Higgins.
"I don't think we have put in what we consider to be the best equipment [and] the safest equipment in every E.R., so that if something comes in we have that," she said.
Higgins is concerned that there are no federally enforced training and equipment standards for the nurses who encounter patients first.
"We really need to make sure these E.R.s are given everything that they feel they need to be able to isolate, care for — whether the patient just is starting with a temperature or whether they're extremely sick, when they roll through that door," she said.
Federal regulators are considering mandatory protections for nurses, but no decision is expected for at least a year.
Last year's Ebola outbreak in West Africa killed more than 11,000 people. The crisis hit home when a Liberian man with Ebola traveled to the United States and died from the virus. The Ebola pandemic may now be diminished, but it has forever changed the way our hospitals care for patients with highly infectious diseases.
Public health officials believe that another major outbreak of infectious disease is fast-approaching. This week WGBH News partners with The GroundTruth Project and NOVA Next on the series, "Next Outbreak."