Beacon Hill is under construction right now, as the city begins upgrading sidewalk ramps to make the neighborhood more accessible to people with disabilities. But the Beacon Hill Civic Association has filed a lawsuit against the city, saying the construction violates state law. It's pitting residents against the city and historic architecture against construction innovations.
The hill alone makes this a tough place to use a wheelchair …
"What further makes it difficult for me and other people that use wheelchairs is the love affair that the city has with brick," said Christine Griffin, who works on Beacon Hill as director of the Disability Law Center. "Brick sidewalks may be pretty, but they are pretty inaccessible, they're constantly breaking. You see upheavals of them."
On some corners, those bricks are about to be replaced with concrete and plastic ramps with raised bumps. But in meetings with residents over the past year, the city has not received the required approval from the Beacon Hill Architectural Commission.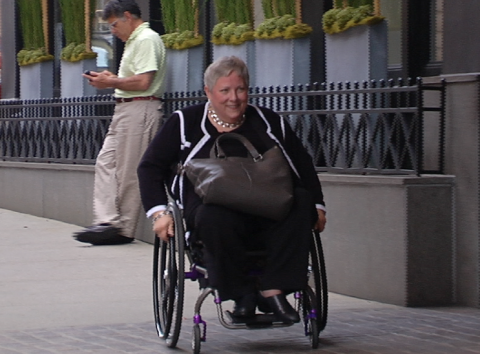 Photo Credit: Howard Powell
"We completely support accessibility on Beacon Hill and making Beacon Hill accessible to everyone," said Keeta Gilmore, president of the Beacon Hill Civic Association, which filed a lawsuit in Suffolk Superior Court to block the city installing the ramps.
"We have never had any kind of argument with the city's plans for the number of ramps they want to put in or the improvements to the existing ramps," she said. "Our complaint has been with the materials that they use."
The plaintiffs seek to prohibit the city from "altering the sidewalks and streetscape in the historic district using historically inappropriate materials and designs."
The city has yet to address the suit. A spokesman for Mayor Walsh says the city has "taken all of the appropriate steps to ensure public safety" and is continuing the construction work as planned.
Hear from the chair of the Beacon Hill Civic Association on Greater Boston: