Guests:
 Daphne Koller: Stanford professor and co-founder of Coursera.
Andrew Delbanco: Columbia professor and author of "College: What It Was, Is, and Should Be."
Prateek Tandon: World Bank economist.
Beyond the bricks, ivy, and beautiful quads, there are problems emerging in the world of higher education. Let's start with that sticker shock — in 2012, tuition at Sarah Lawrence, America's most expensive college, cost more than $60,000. And while tuition at many state universities is still less than $30,000 dollars, the average tuition at a private college in 2012 was $43,289. The price of education seems daunting. But Andrew Delbanco, a professor of American Studies at Columbia and author of "College: What It Was, Is, and Should Be," says those numbers aren't the whole story.
Delbanco points out that around half of the students at Columbia are receiving financial aid — so they don't bear the full burden of high college costs. He also notes that due to the withdrawal of public funds, the price of tuition at public universities is rising more rapidly than the cost of a private education, though it remains the more cost effective choice over all.
Photo Credit: World Economic Forum / Wikimedia Commons
Starting a Digital Revolution
But some, like Daphne Koller, a co-founder of Coursera, think even a discounted $50,000 education is untenable. Coursera allows any interested individual to take courses taught online by professors from Columbia, Stanford, Princeton, Brown, and Johns Hopkins, among others, free of charge. With 62 university partners and more than 2 million students enrolled, the project shows no signs of losing steam.
"We realized that the kind of educational experience that we offered to our on-campus students in large lecture classes is something that is actually better packaged in an online medium because it actually provides a more interactive and engaging format than sitting in a 300 person auditorium, listening to a lecturer talk to you," Koller explains. "I think the real revolution here is our ability to offer that kind of education at a marginal cost per student, which is effectively zero…by exploiting technology."
Koller is quick to say that getting an education at Coursera isn't the same as enrolling at Stanford — she cites face to face interaction with professors and peers as the main divide between the two. Still, she believes Coursera's ability to offer classes from top universities for less than one dollar per student will make a quality education affordable.
WATCH: Coursera's Introduction to "Pay Attention! ADHD Through the Lifespan"
The Drawbacks to Educating Online
Prateek Tandon, an economist at the World Bank, isn't so sure that Coursera will level the educational playing field. It's not enough for students across the world to be able to study biology with Stanford professors, he argues, if they cannot get credit for their work. Koller agrees, and says that Coursera is working to make accreditation a smoother process — but at the moment, it's not easy.
"Students around the world, they want degrees," Tadon says. "So there's a need for more interaction between these accreditation bodies and the universities."
Furthermore, while Koller says Coursera's university partners were happy to offer courses online, believing it would allow more time for professors and students to interact, other institutions aren't as eager to embrace online learning.
"I think faculty are wary of what this means," Delbanco says. "A place like Columbia is not likely to be upended any time soon, because there are many more students who want to come to our university than we can admit. But there are other institutions, very good institutions, where it's a struggle each year to fill the entering class. And of course, therefore, there's an anxiety."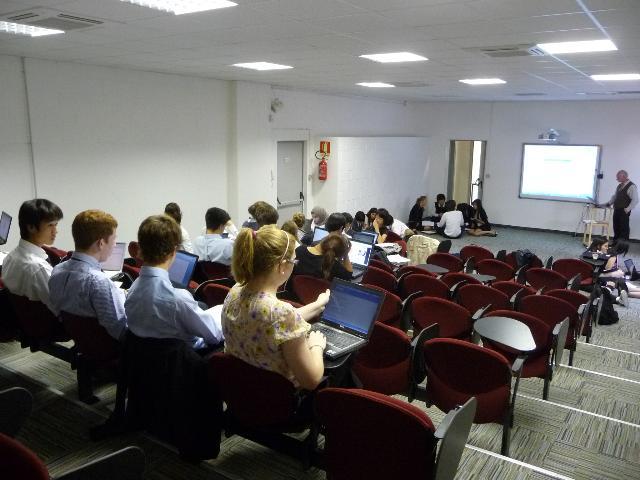 Photo Credit: seriach / Wikimedia Commons
Redefining Our Educational Mission
Koller, Tandon, and Delbanco all agree on one thing, however — America needs to revisit and perhaps revamp the mission of its higher education system. Once leaders decide how much college is meant to impart skills versus teach methods of thinking, they can better decide how technology and online learning will fit into curriculum across the country.
"There is the constant challenge of reconciling these technical considerations with these larger political imperatives, and the question is about the mission of the university," Tandon argues.
But what exactly is that mission — is it to educate online effectively and encourage participation? Or is it to support students and challenge them on college campuses? Today's students may just have to wait and see.