Boston is now a majority-minority city, and the Boston mayoral candidates have spent hundreds of hours in communities of color around the city trying to get out the vote and convey their message. WGBH has two reporters on the campaign trail, not to capture the sound bites of the day, but to delve deeper into the issues. 
It was one of the first questions Boston Mayoral Candidate John Connolly was asked after he made it past the preliminary election:
 
"John, what are you going to do to show that a white, Irish guy can understand the concerns, the needs of the minority community?"
 
Connolly was standing in Government Center, in front of City Hall. 
 
"I'm going to do everything that I did during this whole campaign and my six years in office, where I built strong support across the whole city.  My campaign was mom-powered in many ways. We had moms knocking on doors who had never worked on a campaign before. But the thing I loved about it? It was moms from West Roxbury and moms from Mattapan. Moms from Roxbury and moms from the South End."  
And since then, Connolly has spent little time on City Hall plaza. He's been campaigning throughout the city. And in the 36 days since the preliminary election, he's made at least 57 public appearances in Dorchester, Mattapan, Roxbury, Hyde Park, Chinatown and East Boston.
"I think a lot of it has to do with what happens in the preliminary. You look at the areas where you didn't do well. And you look at the areas where your opponent didn't do well and you head for those areas."
 
Connolly pledges that his administration would be more diverse than Menino's. He's also promised to bring jobs to struggling neighborhoods and to reduce achievement gaps between students.
 
But it's important to recognize there is no "minority vote," that we all vote as individuals. A Latino resident of East Boston certainly may have different criteria from a Vietnamese resident of Fields Corner. Connolly knows that, and he says he's just trying to get his name out and distinguish himself from his opponent, especially in neighborhoods where he isn't often recognized.
 
"Because that's where you're going to find a lot of undecided voters. Pundits have made a lot about it in terms of Irish politicians and communities of color. Really it's just about that classic Boston politics. You go where the undecided voters are."

Even on this afternoon, in Dudley Square in Roxbury, a few voters mistake him for his opponent, Marty Walsh:
 
"Sound from passerby interaction: My friend says you're Marty Walsh but I'm saying no, that's John Connolly….oh, thanks. I get that all the time."
 
It's that kind of interaction in these neighborhoods that's Connolly's biggest challenge. If turnout in the preliminary is any guide, then Connolly doesn't need to spend too much time in the neighborhoods where he did well: East Boston, Charlestown, the North End, Chinatown, the Fenway, Brighton and his home turf West Roxbury.
 
But across the city, nearly two-thirds of voters did not vote for Walsh or Connolly in the preliminary. In the city's heavily minority neighborhoods, both Walsh and Connolly had some of their poorest showings. That's what's prompted heavy campaigning.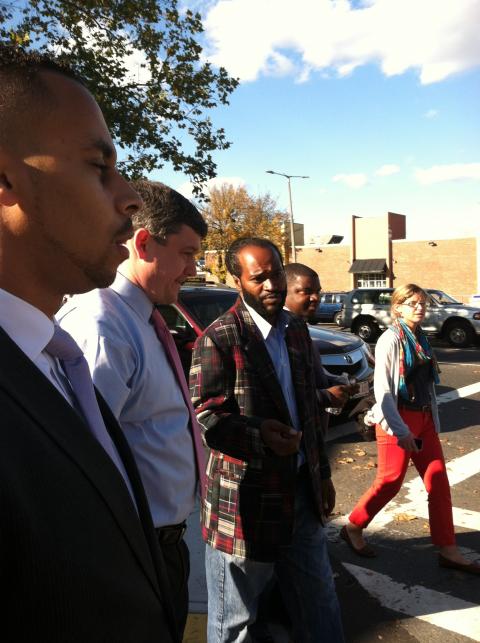 Photo Credit: Anne Mostue / WGBH News
"This is Brother John. I'm supporting him primarily because for the last three years he's been out there supporting the Boston Raiders. That's big."

Donnell Singleton, director of the youth football team in Roxbury, says he's long seen Connolly's face in the stands.
 
"It's major because he was walking down to Franklin Field to support our kids and honestly I didn't see any other politicians there to see what we were doing with our mentoring and academic programs."
 
"I think he's the right man for the job. I thought critically about who to choose…"
 
Liz Miranda is spokeswoman for the SCORE nonprofit, which supports Boston students ages 9 to 19.
 
"I think for a young leader like myself having a politician that not only believes in programs that are not necessarily city-facilitated, but in young leadership. You're not only supporting the program, you're supporting me, a young person who could leave the city at any time."
 
But not everyone is warming up to Connolly. At the Twelfth Street Baptist Church's NAACP meeting earlier this week, Aisha Johnson said she's heard Connolly reuse a speech about racism.
 
"We don't reflect the city at all in city government right now and you just look at the  police department to see that. But it goes for all of city government. So clearly it's a reflection of systemic racism, in Boston and throughout our country."
 
Johnson is skeptical of Connolly's efforts to better understand violent crime.
 
"I kept hearing the same repetitive thing like I've met with the gang leaders and all that stuff. And me being a black woman, that doesn't mean anything because there's been gang leaders since I was born, there's been gang leaders since he was elected. Why all this sudden interest in meeting with gang leaders?"
 
Johnson also says she doesn't see enough collaboration and support between Connolly and city councilors of color. And many of his opponents of color in the preliminary – Felix Arroyo, John Barros, Charlotte Golar-Richie – are supporting Walsh. Connolly says the endorsements that matter are from his constituents, like Robert Jenkins of Mattapan. He says he agrees with Connolly – that education is the great equalizer.
 
"One of the issues I put to the test was there was a report on busses in minority communities and kids were getting to school late. I called John's office up, got results."
 
Given that the next mayoral candidate will not visually represent the demographic shift in the city, he has just a few days left to show that he can be a part of every community.