The two men who attempted to fight the blaze but perished in the basement of 298 Beacon St. yesterday were remembered across the city on Thursday.
 
Lieutenant Edward Walsh is best introduced by his colleague, Boston Fire Department spokesman Steve McDonald.
"He was assigned to Engine 33, up here on Boylston Street at the Prudential Center. He was married, had 3 children, two boys, one girl, all under age 10. He's 43-years-old, he's been on the Boston Fire Department for 9 and a half years."
 
And Firefighter Michael Kennedy:
 
"33-years-old, single. Michael lived in Hyde Park, and I'll go back, Walsh lived in West Roxbury.
He was a combat veteran in the marines, and he's been assigned to Ladder 15 again up here at the Prudential Center."
 
Even though they fought - and died – in a fire in one small building, the impact continues to spread much farther. Today the entire city was in mourning.
 
Lt. Walsh's West Roxbury neighborhood was quiet, and his home appeared to be empty. Neighbors didn't answer their doors. But on nearby Centre Street, Walsh was remembered fondly from the diner to the hardware store.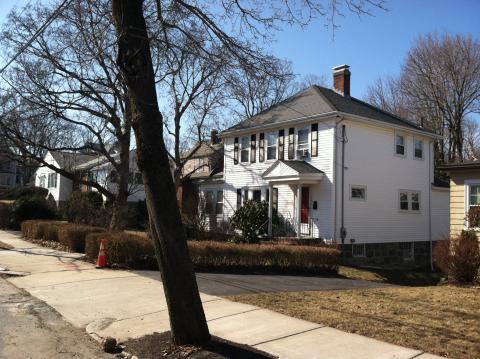 Photo Credit: Anne Mostue / WGBH
"When I saw his picture online last night, my heart just absolutely broke. Knowing what a tremendous guy he was in every sense of the word."
 
Rick Devins, an elevator mechanic, knew Walsh professionally but remembers him as a friend. He described Walsh as smart guy who loved his work – first in the West Roxbury firehouse, then in the Back Bay.
 
"There's a building in Brighton and I got acquainted with him there. Extremely competent, loved his work. He was lighthearted in that, a good example is that I've been having an issue with something in a building he was associated and he knew we were trying the best we can to take care of it and he knew that and he said ok, keep at it and do the best you can and I appreciated that," Devins said. "He was just a pleasure to deal with and a fine man."
 
Devins choked up when talking about how the community will do everything it can for Walsh's wife and three young children. Walsh could be found playing basketball or ordering sandwiches with them at a local deli. The firemen in the West Roxbury station declined to comment, asking for privacy.
 
And just a few miles away, in Hyde Park, fireman Mike Kennedy's family asked for the same. Their neighborhood was also quiet. But Kennedy didn't spend much time at home, according to friends. He was an avid motorcyclist, a volunteer with the Big Brother Big Sister program, and a CrossFit Coach.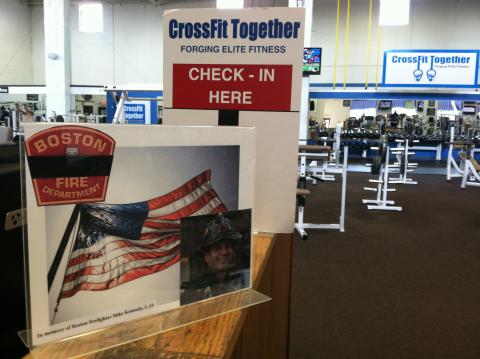 Photo Credit: Anne Mostue / WGBH
Lisa Markland said she often worked out with Kennedy. She said he loved exercise, was in tip-top shape, and enjoyed coaching people of all ability levels.
"His personality here at the gym was outgoing. Loved CrossFit, loved to work out, was passionate about it, but at the same time was just a regular guy," she said.
"When I heard that it was Mike the wind just left me. Someone called me. I remember seeing the fire on TV when I left to go to the gym and I remember saying I know Mike's okay. And I can't imagine he's not going to be there. Today just doesn't seem like a normal day. I know the sun is shining but I can't imagine how some of the others are feeling."
 
Markland said she and the other CrossFit participants are dedicating today's workout to Kennedy, with the number 33, his age. 33 squats, 33 pushups, etc. It's just the beginning of city-wide efforts to both honor and mourn Firefighter Mike Kennedy and Lt. Ed Walsh.