Boston now has nearly 200 more beds to provide for homeless men displaced when the city was forced to shut down its shelter on Long Island last year.
Mayor Marty Walsh cut the ribbon Thursday on a new first floor full of beds and services at the Southampton street shelter, bringing the total capacity of the facility to over 400 beds.
"The front door is not just the door to a shelter," Mayor Walsh said today at the ribbon-cutting ceremony. "It's the doorway to counseling , supports and permanent housing and that's what going to happen," Walsh said.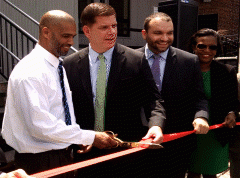 Walsh said services like job training and substance abuse counseling will be available to residents on-site and will help keep homeless Bostonians on a path to permanent housing.
The opening couldn't have come sooner. Boston's homelessness rate is going up, Walsh admits. The mayor attributes that statistic to increases in drug addiction, a lack of affordable housing and joblessness stemming from the Great Recession.
When the Walsh administration shut down the bridge leading to Long Island in Boston Harbor in October, the site of many of the city's homeless shelter beds, city officials scrambled to find temporary spaces to replace the 400 beds on the island.
After initially housing much of the population in a converted city-owned health club, City Hall began renovating the Newmarket facility, first with the second floor and now with additional beds on the first. The effort for both phases of the shelter renovation cost about $2.5 million, according to Walsh spokeswoman Bonnie McGilpin.
Walsh launched a task force to report on solutions to individual homelessness (as opposed to families) in Boston back in November. They've vowed to wipe out homelessness among veterans and to drastically cut down on the number of individual homeless people in the city.
Luis Rosario is an alcoholic and was among the first to occupy the second floor of the shelter in when it opened in January.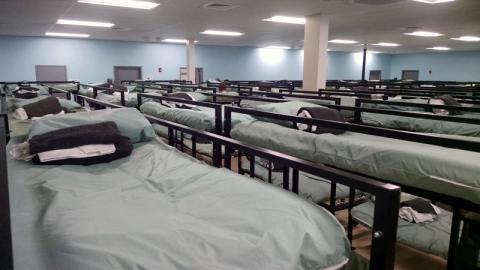 Photo Credit: Mike Deehan / WGBH News
"In all fairness," he says, "I was just a bum. A broken bum. Who believed that's all I'll ever be," Rosario told a crowd of city workers and press at today's event. He's since moved out of the shelter, completed a welding training program at Wentworth Institute and continues his recovery.
"And I'm not a bum today," Rosario said at the end of his emotional remarks before receiving a hug from Walsh.
It took less than six months to turn the city's old transportation sign shop into a new shelter. The building's former garage has been turned into a cafeteria. Hundreds of new bunks fill the main interior of the shelter, with room for recreation lining the perimeters.
Walsh toured the facility and said hello to residents, many of who greeted the mayor with a casual "Hey, Marty" and a handshake. Walsh checked in with Boston Public Health Commission workers and other service providers who will offer help to shelter guests right through the front door.
"This is great for all of the men who are going to have to call this place their home and what we hope will be a short time…. This is very much intended to be a place where they can be treated with respect and dignity," city Health and Human Services chief Felix Arroyo said.
With the new male-only shelter in place, Boston officials will soon turn the neighboring Woods-Mullen shelter into a facility exclusively for women.