On Tuesday night, the WGBH program Frontline premiered League of Denial, an investigation into how the NFL kept secret the deadly dangers caused by concussions for decades.
WGBH News reporter Adam Reilly went to Gillette Stadium in Foxboro on Wednesday for reaction from the New England Patriots. Reilly asked Coach Bill Belichick what he and the Patriots are doing now to make sure players' brains are protected.
Belichick: First of all, I'm not really familiar with whatever it is you're referring to, whatever this thing is. But it doesn't make any difference whether there is or isn't one going on. We have our protocol with all medical situations, including that one and that's followed by our medical department, which I'm not a doctor and I don't think we want me treating patients.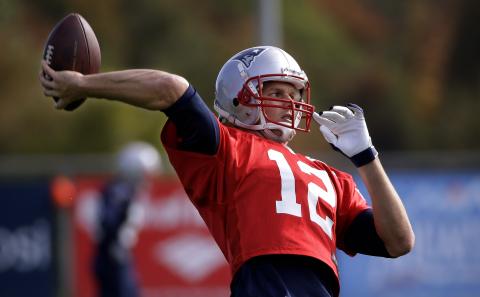 Photo Credit: (AP Photo/Stephan Savoia)
What we do in the medical department, that's medical procedures that honestly I don't know enough to talk about. But I can say this, there's nothing more important to a coach than the health of his team. Without a healthy team, you don't have a team. We try to do everything we can to have our players healthy, to prepare them, to prevent injuries and then to treat injuries and to have them play as close to 100 percent as we can because without them, you have no team.
Reilly also questioned quarterback Tom Brady about how much he worries about concussions on and off the field.

Brady: I don't think about it at all. I'm not overly concerned.
Watch Belichick and Brady react: