There are a few things you can always count on around here this time of year. Hope will be springing eternal for the Red Sox, runners will be out, en masse, on the streets preparing for the marathon. And those streets will be littered with potholes. 
Nothing will turn your local road into the surface of the moon faster than moist weather, with the temperatures bouncing back and forth between above freezing and below it. In other words: pretty much the entire month of March.
"Patching potholes at this time of the year is easily a five- to six-day-a-week job," said Michael Santoro, assistant director of Belmont's Public Works Department.
This year, the snowmelt from our historic winter promises to provide plenty of moisture on roads that have been well worn by salt, sand, and plenty of heavy equipment. Translation: A Xanadu for potholes.
"As the snow clears, we're starting to see the collateral damage of the snow on our infrastructure," said Somerville Mayor Joe Curtatone.
So is Curtatone loading up to fight an epic invasion of the potholes? It's not quite that simple. As Curtatone pointed out, some 90 percent of the Commonwealth's roads are the responsibility of individual municipalities, and everyone handles them differently. And it's a bit of an understatement to say that town budgets around here have been under a bit of a strain.
"No one budgeted anywhere near what we would need to cover these storms, and you have to pay that money, you have to pay the tab at the end of the day," said Curtatone. "So yeah it could have a negative consequential impact on a communities ability to do necessary roadwork."
Officials in Somerville and Belmont say that funds shouldn't be an issue in their towns. But there are other factors that make smoothing out the roads a challenge. In a pinch, Santoro says municipalities can fix a pothole with something called a cold patch.
"So a cold patch is just a patch you put in, you tamp it down, and to be honest with you it comes right out two or three days later, it's a quick fix," he said.
But to do it right, it takes manpower, time, hot asphalt, and some special equipment.
"When we get there with our machine, which is called a hotbox, we can maintain the degree of the asphalt continuously," Santoro said. "When you put asphalt down it's better because it will bind better."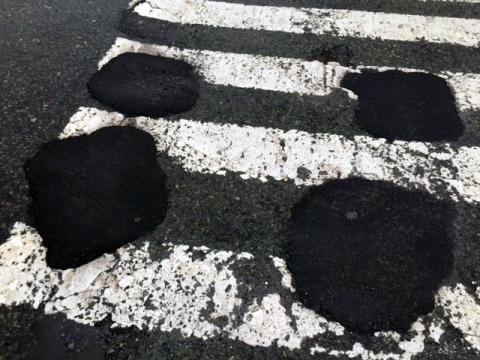 Photo Credit: Edgar B. Herwick III / WGBH News
In Somerville, they have a dedicated three-man crew out five days a week, but they only have one hotbox. Belmont has two hotboxes, but they don't have enough staff to always dedicate two crews.
"Public works in Belmont, we don't just handle the roads, we handle sanitary, sewer, storm drains, car accidents … " Santoro said.
Then, says Steve MacEachern, Somerville's highway superintendant, there's the issue of supply. This time of year, there's only one area company making hot asphalt. They only have two locations, and they aren't always open.
"You run into the problem where every city and town — there's only one place to get it, and you end up waiting in line," he said.
One thing that is not an issue for most cities and towns is identifying where the potholes are. Most have phone lines, online forms, or mobile apps that allow residents to report potholes. In Somerville and Belmont, those reports generate work forms that get prioritized daily and tracked through completion.
"We're going to try to get there within 24 hours, but the volume right now is high because of the bad winter that we're getting out of," MacEachern said. "But we're doing our best to address every 311 call that comes in."
Belmont is going through 6 to 12 tons of asphalt a day. Somerville has patched nearly 1,000 potholes so far this year. But Santoro says the reality is that over the next few weeks, it will be an uphill battle.
"You do get behind, yes," he said. "There's no question about it."
So as you're basking in the lengthening days and the great thaw of 2015, expect the roads to be a little extra bumpy out there. So stay alert, drivers and bikers. And if you see something, say something. The tires you save might just be your own.
We want to know about your experience with your city or town's report-a-pothole program. Have you used it? More importantly, has it worked? Weigh in in the comments below.