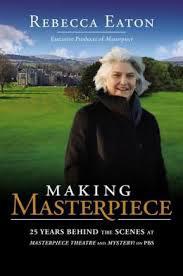 Get a closer look at the details behind the names  Markova or Masterpiece with two new reads, plus reviews of a new play generating a lot of buzz in Boston and a film coming out Friday with much acclaim.   
The Power of Duff, presented by the Huntington Theatre Company, it plays at the Calderwood Pavilion through November 9th.
David Wilson Barnes plays Charlie Duff, a burnt-out local newscaster who transforms first his community and then himself when he begins praying on-air. Amy Pietz plays Duff's ex-wife Lisa, and Jennifer Westfeldt plays Sue, Charlie's co-anchor, in the production helmed by Huntington Artistic Director Peter DuBois.
12 Years a Slave, in theaters Friday.
Based on a true story from the time just before the US Civil War, watch one free black man's struggle not only to stay alive, but to retain his dignity. Solomon Northup, from upstate New York, is abducted and sold into slavery. Facing cruelty as well as unexpected kindnesses in a 12 year unforgettable odyssey, Solomon meets with a Canadian abolitionist who forever alters his life. While searing and very difficult to watch, this film has been described as one of the best depictions of slavery ever committed to film.
Tina Sutton's book The Making of Markova: Diaghilev's Baby Ballerina to Groundbreaking Icon, in bookstores now.
She learned about fashion from Coco Chanel, was a muse to George Balanchine, and rubbed elbows with Picasso and Matisse – all by the age of 14. Known simply as "Markova," the London-born dance prodigy would become the most acclaimed classical prima ballerina of her generation, defiantly independent, and a worldwide sensation.
Making Masterpiece Book Signing at WGBH Tuesday, October 29th at 7pm; signing at 8pm.
For more than twenty-five years and counting, Rebecca Eaton has presided over PBS's Masterpiece Theatre, the longest running weekly prime time drama series in American history.Eaton interviews many of the writers, directors, producers, and other contributors and shares personal anecdotes—including photos taken with her own camera—about her decades-spanning career. She reveals what went on behind the scenes during such triumphs as Cranford and the multiple, highly-rated programs made from Jane Austen's novels, as well as her aggressive campaign to attract younger viewers via social media and online streaming. Along the way she shares stories about actors and other luminaries such as Alistair Cooke, Maggie Smith, Diana Rigg, Benedict Cumberbatch and Daniel Radcliffe, whose first TV role was as the title character in David Copperfield.
This week on Open Studio:
I sit down with Tina Sutton for a conversation about her new biography of acclaimed classical prima ballerina Alicia Markova, and visit The Institute of Contemporary Art/Boston for Amy Sillman: One Lump or Two, the artist's first museum survey. We also profile Giles Cle-MENT, the Portland, Oregon photographer who does it up old school with wet plate photography. He uses a camera from 1905 and a lens from 1849.