There is Art, and then there is the art that becomes part of our collective understanding and endures. Names lake Beethoven, Handel, Beckett, Vonnegut and Queen need little explanation, nor is their work unfamiliar. See new generations present their own interpretations of the classics.
Boston Baroque kicks off its 40th season with Beethoven's Symphony No. 9 this Friday and Saturday at 8pm in Jordan Hall. Then in December, Boston Baroque performs Handel's Messiah, also in Jordan Hall.
According to Fanfare Magazine, Boston Baroque is widely regarded as "one of the world's premier period-instrument bands." The Boston-based ensemble produces lively, emotionally charged, ground-breaking performances of Baroque and Classical works for today's audiences–performed on instruments that reflect the eras in which the music was composed.

About Time, in theaters now.


At the age of 21, Tim Lake discovers he can travel in time... 

at a New Year party, Tim's father tells him that the men in their family have always had the ability to travel through time. Tim understands he can't change history, but he can change what happens in his own life–so he decides to get a girlfriend. As his unusual life progresses, Tim finds out that his unique gift can't save him from the sorrows and ups and downs that affect all families, everywhere.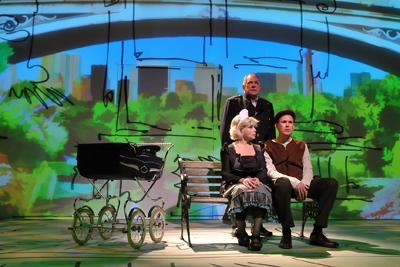 Photo Credit: Craig Bailey/Perspective Photo
  Kurt Vonnegut's Make Up Your Mind is presented by the SpeakEasy Stage Company, playing at the Calderwood Pavilion through November 30th.
Assembled by Broadway playwright Nicky Silver from eleven different versions of the script penned by Vonnegut, the play centers on Roland Stackhouse, a hapless visionary who thinks that humanity's greatest obstacle is indecisiveness. Stackhouse thinks he has the answer: Make Up Your Mind, Inc. But just as business takes off, romance rears its head, and Stackhouse finds himself in a world of wealthy coquettes, paid enforcers, blue movies, and confused clergy.
We Will Rock You, presented by Broadway in Boston, it plays at the Opera House through November 10th.
In a future age of mindless manufactured music, where everyone dresses the same, thinks the same, is the same, hope of breaking free rests with an unlikely resistance - an alliance of rebel Bohemians deep below iPlanet, waiting for a hero to bring the power of Rock back to the people. Featuring the greatest hits of the legendary British rock group, Queen.
Waiting for Godot, presented by ArtsEmerson, it plays at the Paramount Center through November 10th.
Samuel Beckett ranks among the great artists of the Western world, and Waiting for Godot is considered by many to be his masterpiece. On a country road towards the end of day, two friends wait for a man named Godot to arrive. No one does Beckett better than those from his native land, and Gare St Lazare Players Ireland is internationally recognized as among the foremost interpreters of Beckett's work. This production, laced with heart and humor, comes to ArtsEmerson directly from its premiere at Dublin's Gaiety Theatre.
This week on Open Studio:
I learn more about Boston Baroque and hear the difference between period and modern instruments; Vivian Maier, a nanny whose recently discovered trove of photographs from the 50s and 60s reveal she may be one of the 20th centuries greatest photographers, and a look at Punk fashion.