Every week, WGBH Arts Editor Jared Bowen sums up the exhibitions, theater, movies and music you should check out in and around Boston.
A TRANSLATION FROM ONE LANGUAGE TO ANOTHER, decorating Dewey Square Park's ventilation building through next summer
Synopsis: One of Boston's most visible pieces of public art is the massive mural on the Rose Kennedy Greenway. It changes annually, and the newest image has just been unveiled: a brilliant blue piece with towering orange words, by conceptual artist Lawrence Weiner.
Jared says: "This piece is a bit of a challenge, which I appreciate because I think it should make people stop and think."
MR. JOY, presented by ArtsEmerson, at the Black Box Theater, through Oct. 18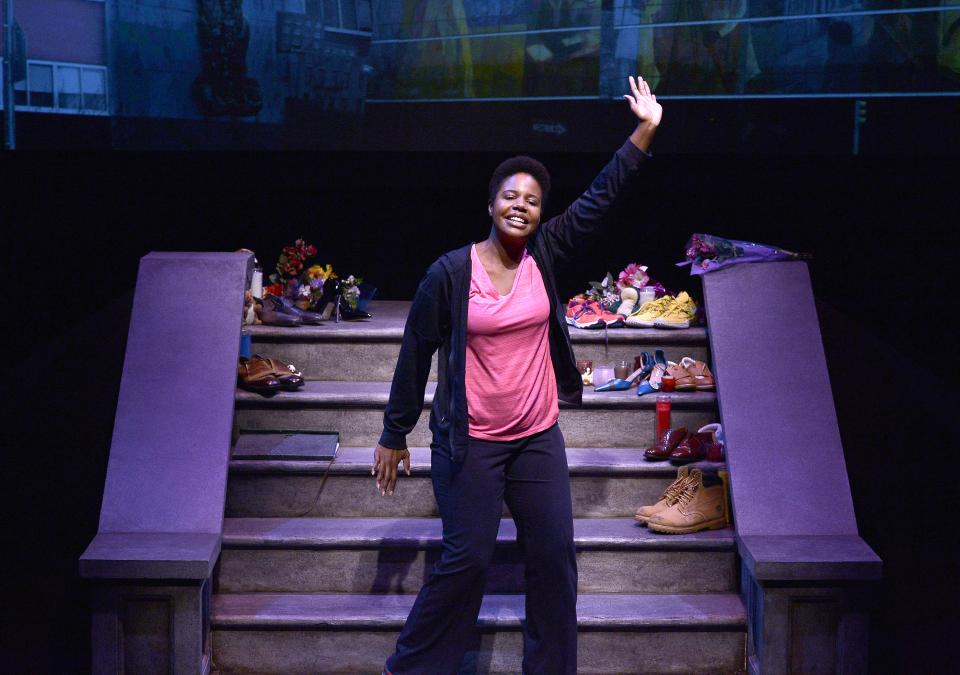 Photo Credit: Paul Marotta
Synopsis: Actress Tangela Large plays all the characters of her Harlem neighborhood -- from an 11-year old girl to a streetwise grandma -- shaken by a violent act against their local cobbler, Chinese immigrant Mr. Joy. 
Jared says: "I was so immersed in this piece in a way that I haven't been in a piece of theater in a long time."
RODGERS AND HAMMERSTEIN'S CINDERELLA​, playing at the Boston Opera House through Oct. 11
Synopsis: The Tony-winning musical about a peasant-turned-princess (Paige Faure) is making its way across the country, with new costumes but the same catchy classics, like "In My Own Little Corner" and "Impossible/It's Possible."
Jared says: "It actually is a wonder to behold—the way she just transforms onstage."
THE MARTIAN, in theaters now
Synopsis: Based on a cult-favorite novel, "The Martian" tells the story of astronaut Mark Watney (Matt Damon), whose crew leaves him for dead in the vast expanse of Mars. But after waking up to find himself alone on the planet with no hope of rescue for years, Watney is left to his own devices while the world watches from home. 
Jared says: "In this time where we have such dark conversations everywhere we turn—between politics and what's happening around the world—this is a movie that gives you hope."
Looking for more arts coverage? This weekend on Open Studio, meet two international stars: conceptual artist Lawrence Weiner and burlesque performer Meow Meow.