Amy Sillman describes her artistic process as one divided between a clean room and a dirty room. One is for planning, one for painting. That sounds a lot like life, the details of which can provide inspiration for some of the best art. 
Amy Sillman: one lump or two, on view at Boston's Institute of Contemporary Art through January 5, 2014.
Painting is perhaps more vital today than any time since the heyday of the New York School in the late 1940s and 1950s, and Amy Sillman one of its most influential practitioners and thinkers. Through her dramatic shifts in style, sophisticated writings, and her role as head of the painting program at Bard College's prestigious MFA program, she has proven that the basic building blocks of 20th-century painting are as relevant as ever. In this, her first survey, follow her development as an artist from the mid-1990s to the present, as her work moved from drawing to painting to moving images, and from figuration to abstraction.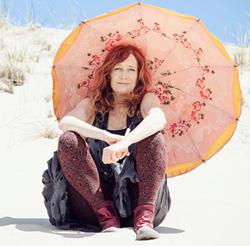 Photo Credit: http://www.pattylarkin.com/
Patty Larkin: Still Green, appearing at Beal House in Kingston, Mass. on Saturday, November 2.
Patty Larkin's 13th album plays out in Technicolor sound images, a kaleidoscope of sun and sea that travels from the fluorescent lit hallways of grief to the warm pull of love, family and nature. This collection of new songs chronicles Patty's search for relief, respite and solace during a time when she lost both of her parents, and witnessed a sister suffer a stroke after surgery. "The loss of my parents was difficult, but we all know or think we know that death is a part of life. What my sister, a jazz pianist, went through was shocking. It shook me to my core."
Splendor: presented by Company One, playing at the Boston Center for the Arts through November 16.
On Thanksgiving eve in a town just north of Boston, Fran is determined to make a nice turkey dinner for her chain-smoking klepto mother, and her couch-surfing older brother. If only it were that simple.
"Water by the Spoonful" at the Lyric Stage Company of Boston through November 16.
This Pulitzer Prize-winning play by Quiara Alegría Hudes is an interesting look at rehabilitation and how we relate to each other in the 21st century. As a moving collage of lives in crisis, see a group of seemingly unrelated characters search for human connection in a harsh and destabilizing world. They are looking for hope among their new-found "family." One by one, the troubled souls find acceptance, connection, even redemption.
This week on Open Studio:
I explore the world of art restoration with a look at how tapestries at the Isabella Stewart Gardner Museum are maintained; talk with actress Jennifer Westfeldt about the Huntington Theatre Company production The Power of Duff. Also, designer Andrea Li sculpts jewelry from a palette of precious gemstones, crystals and heirloom; and stone carver Walter Scott explains what is means to be a master carver in the 21st century.