Here are four very distinct ways to contemplate expressions of passion and beauty within a historical context, from artful metal craft that went with men into battle, to life for Cubans in exile, to understanding what mattered to classical composers or, more recently, how one gay man's encounters with hatred taught him to embrace himself when nobody else would. 
Becoming Cuba, Presented by the Huntington Theatre Company, it plays at the Calderwood Pavilion through May 3rd.
In 1898 on the eve of the Spanish-American War, spirited widow Adela runs a pharmacy, indifferent to the mounting conflict around her. But when the rebellion comes home to Havana, she must choose between loyalty to country or to family. By turns funny, steamy, and political, this powerful new drama asks whether freedom is something we all want. Becoming Cuba is the latest play by Huntington Playwriting Fellow Melinda Lopez, whose play Sonia Flew won the 2005 Elliot Norton Award for Outstanding New Script. Like Act II of Sonia Flew, this new play is set in historical Cuba.
Our Lady, Plays at the New Repertory Theatre through April 27th.
Still glowing from great success in the New York Fringe Festival, this incredible play is all James Fluhr, from the inception to the performance. He came out as a gay man, was rejected by his father and turned to his creative side for a response and for survival. He told me during our interview, ""Either my life was gonna get really, really dark—I could feel myself getting dark—or I was gonna cover myself in glitter until I like exploded out of it. We only have two ways to go, and there's a monologue on the show about covering yourself in stone to make yourself beautiful, so you can forgive the seasons before."
» Hear my entire interview with James Fluhr on Open Studio.
Knights! Now on view at the Worcester Art Museum.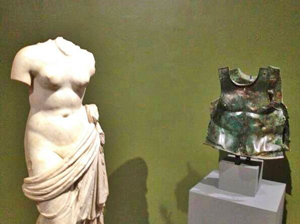 Step into a room full of Medieval armor and you expect to think about the fright of heavy metal used in battle. However, as is now the norm at WAM, that is not what you'll be contemplating in this new display of battle gear appearing only three months after the closing of Worcester's Higgins Armory Museum. As WAM integrates the armor into its collection, it gives director Mathias Wascheck an opportunity to present the armor as works of art. Juxtaposed with art from the period and arranged in themes such as "Courtly Pursuits" or "The Dance of Love and War", museum goers can appreciate armor for its aesthetic and social purposes, as much as its martial one. 

Discovery Ensemble, Performs at Jordan Hall, Sunday April 13.
Conductor Courtney Lewis, who was recently appointed as the new Assistant Conductor of the New York Philharmonic, presents "Crosscurrents: Four Intimately Linked Composers". The program will feature Tchaikovsky's Serenade for Strings in C major, Op. 48, Beethoven's Violin Concerto in D major, Op. 61 featuring violinist Xiang Yu, Stravinsky's Symphonies of Wind Instruments and Hadyn's Symphony No. 102 in B-Flat major.
The concert will be preceded by A Musical Conversation with conductor Courtney Lewis, hosted by 99.5 WCRB's Brian McCreath at 2pm.
Coming up on Open Studio: Jared visits the Massachusetts Historical Society for a new exhibit featuring the Shaw Memorial, one of Boston's most famous monuments honoring one of the country's first African American military units of the Civil War. He also sits down with Discovery Ensemble co-founder Courtney Lewis, recently named the next Assistant Conductor of the New York Philharmonic, to talk about his new position. Also: Paula Zahn's interview with Steve Martin.
Add your comments and tell us your opinion on these and other experiences of Art in New England. » Join me on Facebook or Twitter.