After years of stagnant population, Massachusetts is growing again – attracting new residents to Boston and many of the surrounding communities. But the influx has also pushed up home prices and driven demand for new development and affordable housing. In one Cambridge neighborhood, critics say new development is coming at too great a cost.
It's 7 a.m., and the rush hour traffic is beginning to back up along Route 2 near the Alewife MBTA station in Cambridge.  It's one of the most congested roadways in the state, but nearby Anne-Marie Lambert and Quinton Zondervan are walking in a different world.
"We hear the train as we were walking, and a lot of the traffic from Route 2, some of the construction vehicles from the nearby developments … but we are really right next to development, but in this magnificent forest."
A forest known to locals as the Silver Maple Forest, 15 acres of privately owned woods and thicket wedged between Route 2 and the Alewife Brook Reservation.
"You can see this is the entrance to the silver maple forest. And you can see the silver maples.  They are nice. Very long branches that bend in a very particular way that you recognize it when you walk in," Zondervan describes.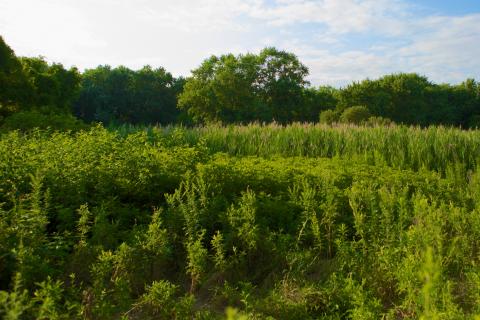 Photo Credit: Patricia Alvarado Nunez / WGBH
For Zondervan, the lush trees and foliage reminds him a little of his native Suriname.
"It is not quite a jungle but it is the closest you're going to get in New England.  I love to come here and bring my kids and show them a little bit of wilderness. It is located next to a T stop.  It is very easy for people to come here and experience a little bit of nature."
Zondervan and Lambert are among those fighting to save the forest, which straddles the Belmont-Cambridge line. A developer wants to build a 298-unit apartment complex on the Belmont side. They both say that will destroy the forest, one of the few remaining natural spaces in what has become a very dense neighborhood.
"If you add the 298 units that are proposed here in Belmont to the 3,100 units you guys have been doing in Cambridge since 2005, that's a lot of housing units," Lambert says.
State Sen. Will Brownsberger, who represents Belmont, has long sought to protect the Silver Maple Forest from development.
"The strategy that I had in mind in 2007, 2008, 2009, 2010, was that maybe the state could put some money on the table and that the communities of Arlington, Belmont, and Cambridge could come up with some money and we could reach a deal," Brownsberger says.
But his bill to acquire the land and make it part of the Alewife Brook Reservation never came to fruition. 
"I put legislation on the governor's desk. We put it through both branches of the legislature but the governor vetoed that legislation when it passed in 2008. Why did the governor do that? I don't agree with the decision, but I do understand where his administration was coming from," he said.
That's because the proposed Belmont complex includes 60 affordable units, and the governor has made affordable housing a priority.
"That's a legitimate counter-veiling concern and I think that's why the governor has not been supportive of putting money in place to acquire it. So I understand how this isn't getting done. Of course I'm disappointed but I'm not bitter about it," Brownsberger said.
Back among the trees, Quinton Zondervan and Anne-Marie Lambert recognize the need for more housing, but say the scale of development has gotten out of hand. 
"Of course we have affordable housing challenges in the state and in our town but it seems like we have to be able to find a way to compensate the owner and show that the value of the land preserved is much greater that the value of the land developed."
And as they walk one more time in the Silver Maple Forest, they fear it may be the last time.
Editor's Note: O'Neill Properties, the developer of the Belmont apartment complex, declined to comment for this story.