Boston Common might be an unusual place to care for patients, but that's where Dr. David Munson and caseworker Carlos Morales spend their weekday afternoons, walking the streets of Boston, caring for the homeless. 
The sudden evacuation of the Long Island shelter last month left about 700 more people without a place to go, people like Fred Mazza, 50, who last week received a foot examination from Munson.
"There's a lot of people that got evicted," Mazza said. "And that is why the homeless situation is a little tight right now."
Mazza said he occasionally slept in the Long Island shelter. But the situation is more complicated than just replacing beds, since some homeless people, like Mazza, don't want to sleep there.
"The only time I go to the shelter is when it gets to be about 10 degrees below zero, and then I go to the veteran's shelter over here for emergency cold weather," Mazza said.
If access to Long Island is restored, Mazza said he hopes security improves.
"Because you have to tie your shoes to your arms and your legs," he said. "People will steal the teeth out of your mouth if they have the opportunity. That's why I don't go to the shelter, because I feel safer out on the street."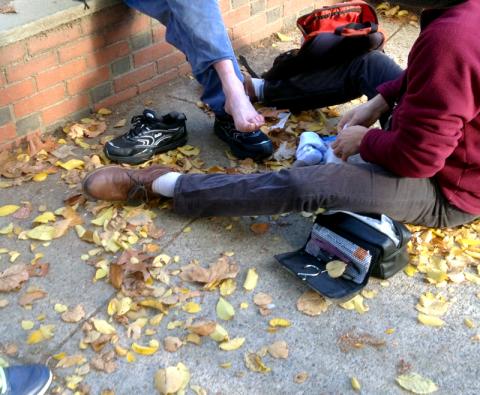 Photo Credit: Anne Mostue / WGBH News
Choosing the streets over the shelter makes it hard to monitor the homeless population. It also makes it difficult for outreach workers like Munson and Morales, who work out of a Pine Street Inn van one night a week. Still, Munson said they are noticing more patients.
"Since the bridge closed in early October, there's probably been some percentage, 25, 30 percent more folks out on the van," said Munson, who added that they haven't been overwhelmed yet.
"You know, if we have a winter that was anything like last winter where it was really cold for many nights in a row and all the emergency shelters were full, and we're already there," he said. "We're already with all the emergency shelters full today. I think we might see problems."
And Morales points out that closing the Long Island shelter has reduced the city's available detox beds by almost half.
"Now it's getting much more difficult to place a patient," he said. "And when you're calling they say, 'Call back in a couple hours.' You do that, there's still no bed. You call back, there's still no beds."
Dr. Munson said that's the best they can do: go from one case to the next and make calls when there's an urgent need for care or a bed. Meanwhile, they're waiting for the city to decide what to do about Long Island.
"There can be real consequences in the winter to sleeping outside in terms of exposure-related injuries, frostbite," Munson said. "And I worry about that as we get into the season. And I think the timing of the bridge closing was just unfortunate in that setting."
Pine Street Inn Executive Director Lyndia Downie discussed the fallout from the closure of the Long Island Shelter on Greater Boston: