Never one to break with tradition, last night's Academy Awards were, above all else, long. The ceremony began at 8:30 p.m., and the credits didn't roll until after midnight. Add in an hour and a half of red carpet coverage — more if you were watching E! — and you've got a full day commitment.
In the time elapsed from the beginning of E!'s pre-Oscar broadcast at 1:30 to the award for Best Picture, you could have watched "Argo," "Lincoln," "Beasts of the Southern Wild," "Silver Linings Playbook," and "Amour." Even if you just tuned in for the Awards themselves, you could have instead watched Best Picture Winner "Argo" twice … if you were willing to fast-forward through the credits.
If you didn't watch the Oscars, a lot of things happened in the four-hour saga that you don't need to know about. Like most of host Seth MacFarlane's jokes, for example. But a few awesome things did happen — and they're helpful cliff notes for water cooler conversation this week.
1)   Jennifer Lawrence fell on her way to accept her Best Actress award for "Silver Linings Playbook."
2)   Kristen Stewart, who is injured, tried to present an award without using her crutches. It was as painful to watch as it likely was for her to do.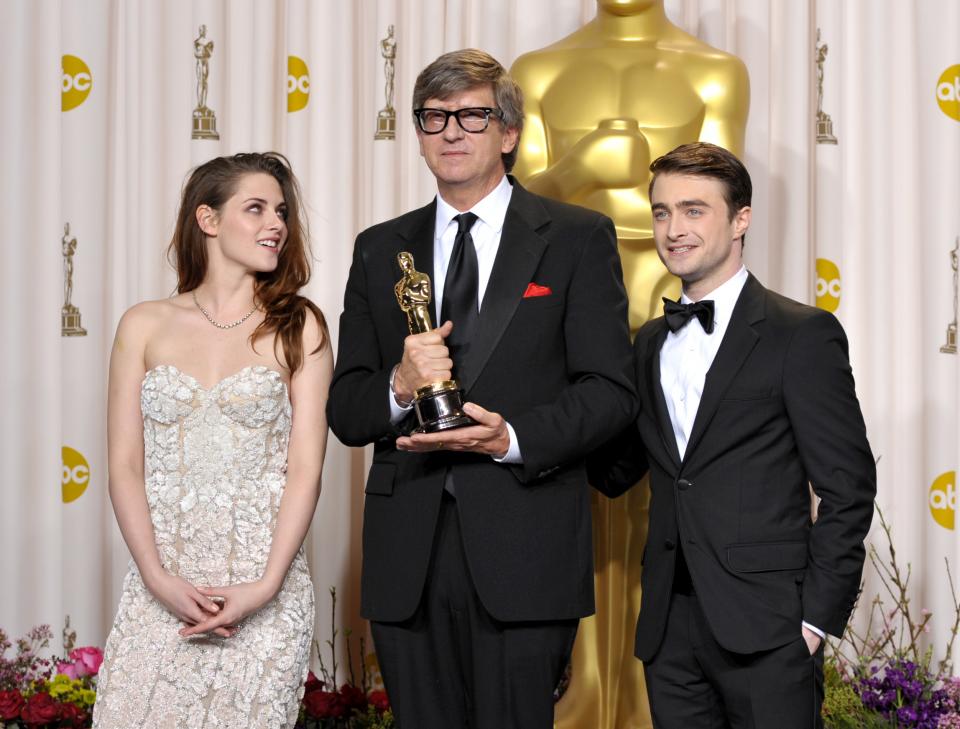 Photo Credit: John Shearer / AP Photo
3)   Daniel Day Lewis joked that Meryl Streep was Spielberg's original choice to play Lincoln while accepting his Best Actor Award.
4) Adele won an Oscar. And, much like when Adele wins anything, she cried.
5)   Seth MacFarlane sang a song about a few of the actresses' … well … swimsuit areas.
6)   The "Argo" Best Picture acceptance speech became an attempt to frame Ben Affleck as Best Director. But no one was mad about it. 
7) Ang Lee won Best Director for "Life of Pi" and he thanked the "Movie God," while beaming.
8) Anne Hathaway won Best Supporting Actress for her turn in "Les Misérables," and no one was surprised.