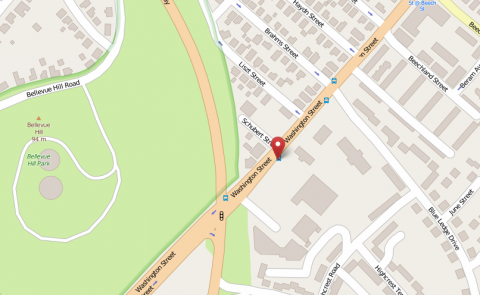 Photo Credit: OpenStreetMap
Update, 4 p.m.: Boston Police have identified a man shot and killed by police this morning as 26-year-old Usaama Rahim. 
Rahim was under 24-hour surveillance from the Joint Terrorism Task Force, according to Boston Police.
Rahim was fatally shot by a Boston Police officer and FBI agent Tuesday morning in a CVS parking lot in Roslindale. Rahim confronted the pair with a knife he refused to drop, according to police.
Police have been going in and out of an apartment at the Stony Brook Commons complex in Roslindale around the corner from the shooting scene since 3 p.m., confirming to WGBH News they're executing a search warrant in connection to the case.
Both the officer and agent were taken to local hospitals for observation but were not hurt.
— Tina Martin
———
Update, 2:00 p.m.: The man fatally shot this morning in Roslindale was under surveillance by the region's Joint Terrorism Task Force, Boston Police have confirmed.
Boston Police said they've frozen an apartment inside Stony Brook Commons apartment complex in Roslindale in connection with the shooting, awaiting a search warrant.
Boston Police will have a press conference at 3 p.m. this afternoon with an update. 
— Tina Martin
——— 
A man under surveillance by terrorism investigators has been shot and killed by a Boston police officer.
Police Commissioner William Evans confirmed from the scene that the man shot at about 7 a.m. at a pharmacy in the city's Roslindale neighborhood has died.
Evans said the man was under surveillance by the Joint Terrorism task Force. His name was not made public.
Evans says when a city officer and FBI agent approached the man to talk to him he pulled a military-style knife and lunged at them.
The suspect was taken to a hospital where he died.
Evans says the officer and agent were also taken to the hospital for evaluations.
The shooting is under investigation. No other information was immediately available.