UPDATE: Follow "The Alphabet" as it unfolds, A to Z, through the slideshow above. 
------------------------
For the next 26 days, one letter will leap out on the front page of Fitchburg's daily newspaper. Today, it's a minimalist red A that fills the space above the fold like a house. Tomorrow, B could be big or small, legible or hardly so. Only those putting together the Sentinel & Enterprise's public art project, "The Alphabet," know, and they're out to surprise their readers—"make them wonder, what the hell is going on with the paper?" said visual artist Anna Schuleit Haber, who's steering it all the way to Z.
"Print media is on its way out," said Schuleit Haber, a MacArthur Foundation fellow who the Fitchburg Art Museum commissioned to carry out this third leg of its National Endowment for the Arts grant. "What we're really marking here is the end of one era and the beginning of the next."
Schuleit Haber, who was born in Germany and who usually works by herself in her New Orleans studio, recruited 26 typographers from around the world and a team of students and volunteers. Then she embedded herself in the Sentinel & Enterprise newsroom to oversee the endeavor, with the blessing of editor Charles St. Amand.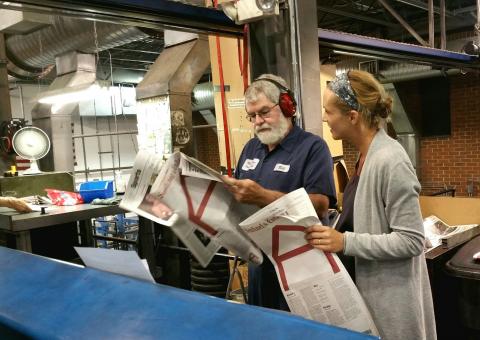 Photo Credit: Justin Keohane, Alphabet project intern
"For him to have said yes is kind of a miracle because the whole project could have stopped at his desk when I presented this," she said.
Schuleit Haber hopes to balance the visuals with storytelling new and old. Around Amsterdam artist Felix Salut's A are "Ancestry," an essay by esteemed journalist Adrian Nicole LeBlanc, who grew up in nearby Leominster, about the factory town's history and immigrants; "Ajar," a poem by Andrea Cohen, who directs the Writers House at Merrimack College and whose work has been widely published; and "Airship," about the paper's 1909 report on the sighting of an unusual object in the sky, by Fitchburg State University student Anna Farwell.
"It's really an American project, about an American city with an American industrial past," she said. "Before Fitchburg fell off the grid, people came from all over the world to live here."
The Sentinel & Enterprise prints approximately 14,000 copies of the paper on weekdays.
The Fitchburg Art Museum will collect and exhibit the front pages as they come out, and you can see them here in a slideshow that will be updated daily.