Lawmakers on Beacon Hill are hearing arguments Tuesday about the value of solar energy. And several churches in Dorchester and Roxbury are paying attention. The churches have had to scale back on their plans to put solar panels on their roofs and share the power with their congregations.
Reverend Mariama White-Hammond walked around the corner of the Bethel AME church in Dorchester to the front of the building and pointed up. "Here is the roof with our solar panels," she said. The panels cover one whole section of the church's roof.
"For us, you know, the sun is a gift from God," Hammond said. "We like the idea that, you know, God is powering our church every Sunday."
Bethel AME teamed up with four other churches in a plan to buy the panels. On top of powering the church buildings, they thought the project would generate extra power they could share. "Our goal was to donate some of that energy to low-income folks in our community and in our congregation," Hammond said.
The churches were also going to help pay for the panels by sending some of the extra power they generated into the power grid and selling it to the utility company.
But here's where they ran into a problem — one that's impacting a range of solar projects in lower-income communities. In the spring of 2016, as they were working on their plan, a change in state regulations severely cut the amount they'd get paid for that power.
Ben Underwood of Resonant Energy, which coordinated the solar project for the churches, used an analogy here. He said it's like buying land to start a tomato garden. Getting a loan to do that could depend on how much you could sell your tomatoes for.
"We're in a funny situation where the value of a tomato is highly contentious and is affected and influenced by policy and not just supply and demand," he said. "What happened is, basically, we had started this project. You could say we bought the land thinking we're going to able to sell tomatoes at a certain price. And about halfway through the development process, the value of tomatoes was reduced by 40 percent."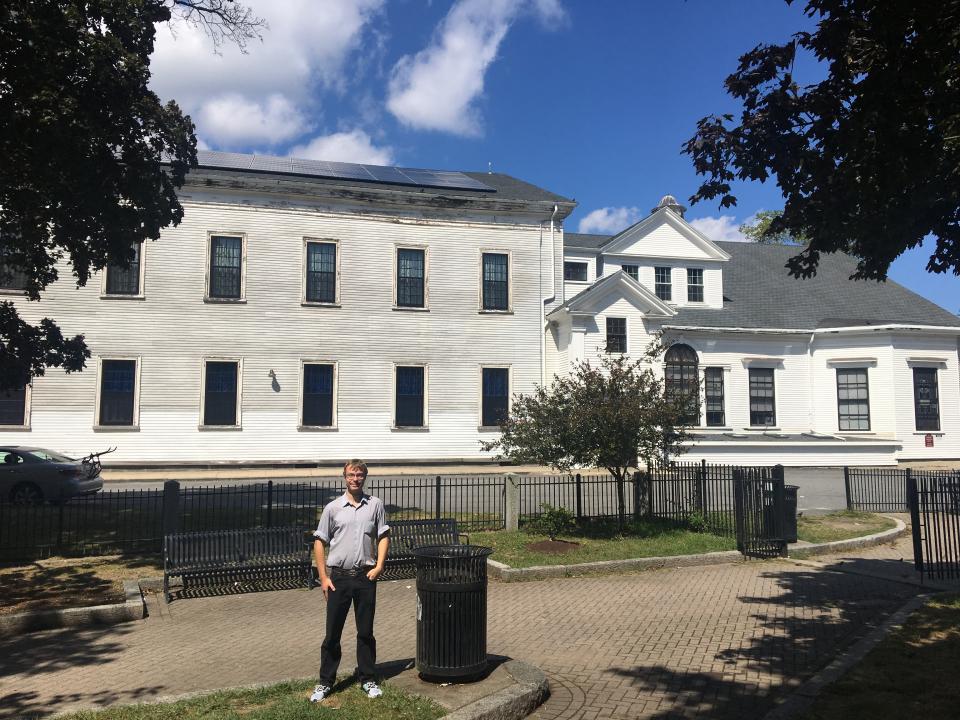 Photo Credit: Craig LeMoult/WGBH
When the price of solar power got slashed, it slowed the whole process down – and two of the churches dropped out of the plan. Bethel AME, St. Augustine and St. Martin in Roxbury, and the Second Church in Dorchester had to scale back their plans to get below a certain size limit so they could still get the full retail price for power. In the end, the scope of the project was cut roughly in half.
Hammond said that meant they don't have extra power to share with the community.
"Now we don't even have enough to cover the needs of the church itself," she said.
The regulatory change also cut payments for programs that let low-income people buy into community solar projects that are not at their homes.
"When I think about what could have been possible at this campus, what could have been possible for people who could really use a break on their electricity bill, I just wonder if we've put the wrong people's interests first," Hammond said.
But should energy generated by rooftop solar panels cost the same as the power you usually buy from utility companies? Ashley Brown of Harvard University's Electricity Policy Group says no. Brown says people with panels on their roofs aren't providing what he calls a full retail product.
"Meaning 24/7 guaranteed service, all the distribution services, all the billing services, the maintenance services, all the meter reading — everything for a combined service," Brown said. "All they were providing was energy."
And, unsurprisingly, that power is generated in the daytime. Brown says that's off-peak.
"Which means we're providing energy at a time the system didn't need it as much, and when the prices for energy were much lower," he said.
On top of that, Brown said its actually better for low-income people if the price paid for solar power is cut, because it's disproportionately poorer people subsidizing solar panels on the homes of wealthier people.
"So solar, just historically rooftop solar, has been an economic detriment to low-income people," said Brown.
State Senator Sonia Chang-Diaz sees the issue quite differently. She said the current state policy means municipal projects and individual homes with solar panels are being paid significantly more for their power than community solar projects for low-income people. And she has introduced legislation that she says would level that playing field.
"The bill would require that, for community solar projects that are selling to low-income residents, that those communities' solar projects are compensated by the utility at the full retail rate equivalent with a private homeowner, equivalent with a municipal solar energy project," Chang-Diaz said.
The bill would also increase the number of projects that qualify for that kind of payment.