The U.S. Virgin Islands were among the hardest hit areas by Hurricane Irma. Tonia Magras, a St. Thomas native and former WGBH employee, now lives in Waltham and has been struggling to keep in contact with her family in the Caribbean since the storm hit. WGBH's Morning Edition host Joe Mathieu spoke with Magras about how her family is doing. Below is a transcript of their conversation. Click on the audio player above to listen to the interview.
JOE MATHIEU: You're listening to WGBH's Morning Edition, I'm Joe Mathieu. As we continue to cover the aftermath of Hurricane Harvey and then Hurricane Irma, we take a close look this morning at St. Thomas and spend some time with Tonia Magras, who is a native of the island and now lives in Waltham. She got the last flight out before the storm. Tonia, welcome. It's great to talk to you this morning.
TONIA MAGRAS: Thank you very much for having me.
MATHIEU: You're back in Massachusetts. You barely got out in time.
MAGRAS: Yeah, I literally took the last flight out from St. Thomas, which went to San Juan, and then ended up having to fly to Dallas and three other cities before I got home. It was a nightmare, but yes, I did get out in time.
MATHIEU: Now you grew up in St. Thomas. You have a lot of family there. How is everyone, first of all?
MAGRAS: All lives are accounted for, everybody's safe. Nobody was hurt. My dad suffered the least amount of damage to his home and his property. I have a brother there who's fine, and my husband's family, they were all accounted for. I think our biggest, kind of worrisome, is that Greg has a 10-year-old son who we didn't hear from until this past Saturday. So that was four days of complete torture of just not knowing if he was OK or if his mom was OK. They ended up losing everything, so his son is going to have to come up here for school. We're trying to figure out when we can go get him. It's just ... it's horrible. I mean, the beautiful paradise island that I know and love and visit at least once a year, it's just — it's a completely different world.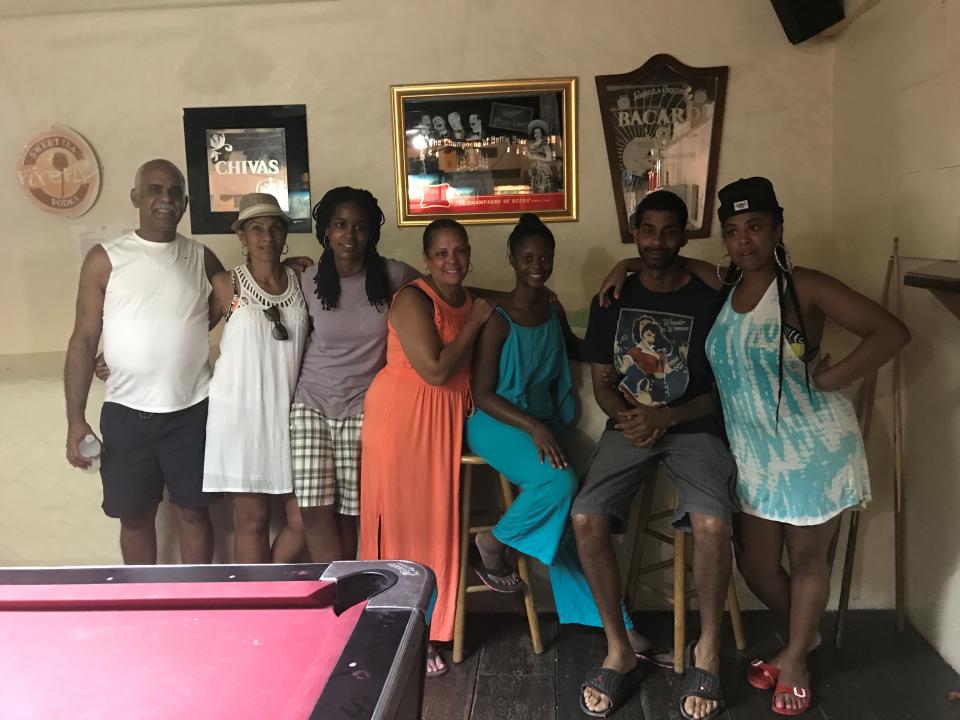 Photo Credit: Courtesy of Tonia Magras
MATHIEU: Tonia, tell us what it's like when you're trying to make contact. We know there is no power in many areas of the island. How hard is it to find someone?
MAGRAS: It's very hard. I mean, this is where social media has really kind of stepped up and been able to, you know, put in contact many friends and families and relatives. There is no power in St. Thomas, as you probably know, so people are relying on, you know, having generators to charge their cell phones. There is some cell service in certain parts of the island, but not widespread, so sometimes the cell service is jammed, you just can't get through. And again, you know, just kind of being able to use social media apps to be able to do that connection is great. I haven't spoken to my dad since Wednesday, but I'm able to use the WhatsApp and Facebook to kind of check in on a daily basis.
MATHIEU: So you're using a couple of different forms of communication, but you also — were you able to get a phone call into family anywhere?
MAGRAS: No. On Saturday morning we finally got a phone call from my step mom's mother which was about 10 seconds where she said, "Everyone's fine. We lost the house. I'll call soon." It was short but it was unbelievably sweet because we had no idea what had happened to them and had no contact for four days.
MATHIEU: We're talking with Tonia Magras of Waltham, a native of St. Thomas who is trying to stay in touch with family there following the hurricane. Tonia, is that the house you grew up in?
MAGRAS: No ... actually, the house I grew up in, my dad took pictures of and it's actually still intact. My dad built a new house probably about 15 years ago. So that's where, you know, we go, we say home is when we go back to visit. It's just very scary, particularly if you have ever been through anything like this. It's just unsettling. It's a feeling of desperation. I know that there have been, you know, news reports about looting, and it really isn't that. I've been in contact with people. It's about getting food. It's about just getting water. It's just getting, like, the necessary things to survive. It's just — it's just heartbreaking all around.
MATHIEU: Good luck, Tonia. And let us know when you go to visit St. Thomas next, we'd like to talk with you about what you find there. We're just glad to know that your family is safe.
MAGRAS: Thank you so much.
MATHIEU: And the U.S. Virgin Islands, St. Thomas, of course, still without power and just now beginning to clean up. Tonia Magras of Waltham, thanks for being with us and sharing your story on WGBH's Morning Edition.
MAGRAS: Thank you.