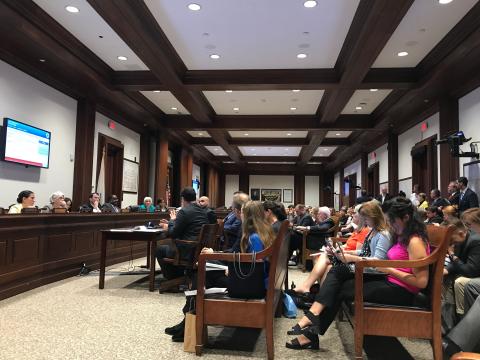 Photo Credit: Bianca Vasquez-Toness/WGBH News
H.304 (sponsored by Representative Alice Peisch) and S.279 (sponsored by Senator Eric Lesser) give superintendents tools to turn around failing districts. Schools under consideration for state receivership would be given the option to create so-called 'innovations zones,' in which school heads can choose to override teacher contracts and partner with private groups. If adopted, superintendents could change teacher assignments, alter classroom curricula, and extend the school day.
Advocates, such as Massachusetts Secretary of Education Jim Peyser, say it hastens the pace of school turnaround. Opponents, including the state's largest teacher unions, say the proposal removes local control over schools and teacher autonomy and undermines collective bargaining agreements.
Later Start Times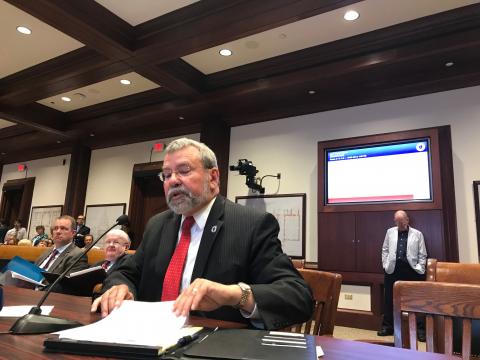 Photo Credit: Bianca Vasquez-Toness/WGBH News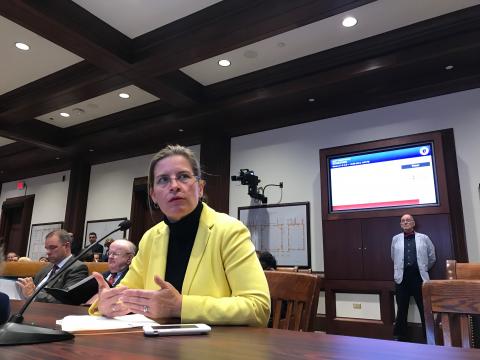 Photo Credit: Bianca Vasquez-Toness/WGBH News
H.235, sponsored by Representative Marjorie C. Decker, would mandate 20 minutes a day of recess for students in grades K-5. With this measure, teachers wouldn't be able to revoke recess from students as a form of punishment. In other states (like Rhode Island and Florida) that have mandated recess, opponents say it impedes local school governance.
Student Privacy
Three proposals addressed online student privacy and data distribution. S.269, sponsored by Sen. Patricia D. Jehlen, prevents school employees from accessing students' personal electronic devices unless they've violated school codes. H.2028, sponsored by Rep. Carolyn C. Dykema, hopes to prevent distribution of student information for marketing purposes or to third-party private interests. H.253, sponsored by Rep. Kimberly N. Ferguson, would prevent districts and administrators from accessing student social media account information or requesting student username information. It would also prevent third party online services or software used in schools from selling student information (to be used for marketing products to students, for example). It does not prevent websites and apps from "marketing educational products directly to parents so long as the marketing did not result from the use of covered information obtained by the operator." If passed, the proposal says student data can be used for "legitimate research purposes."
Family Interpreters
The hearing also addressed state educational institutions' use of interpreters. A bill sponsored by Rep. Diana DiZoglio (H.2025) will require the Department of Elementary and Secondary Education to adopt standards for hiring and using interpreters in schools by June 30, 2018. Last month, a Latino family in Holyoke sued the district for failing to provide adequate translation services.