Around 200 people crammed into a room at the Boston Public Library branch in Mattapan, all hoping to get their hands on the most valuable item of the day – a pair of the special glasses.
  
"Hi everyone, if you need a raffle ticket for solar eclipse glasses, please get in a single file line," said Robin Gibson of the Mattapan Food and Fitness Coalition, which offers a summer lunch program at the library. But on this day, she was busy handing out eclipse glasses.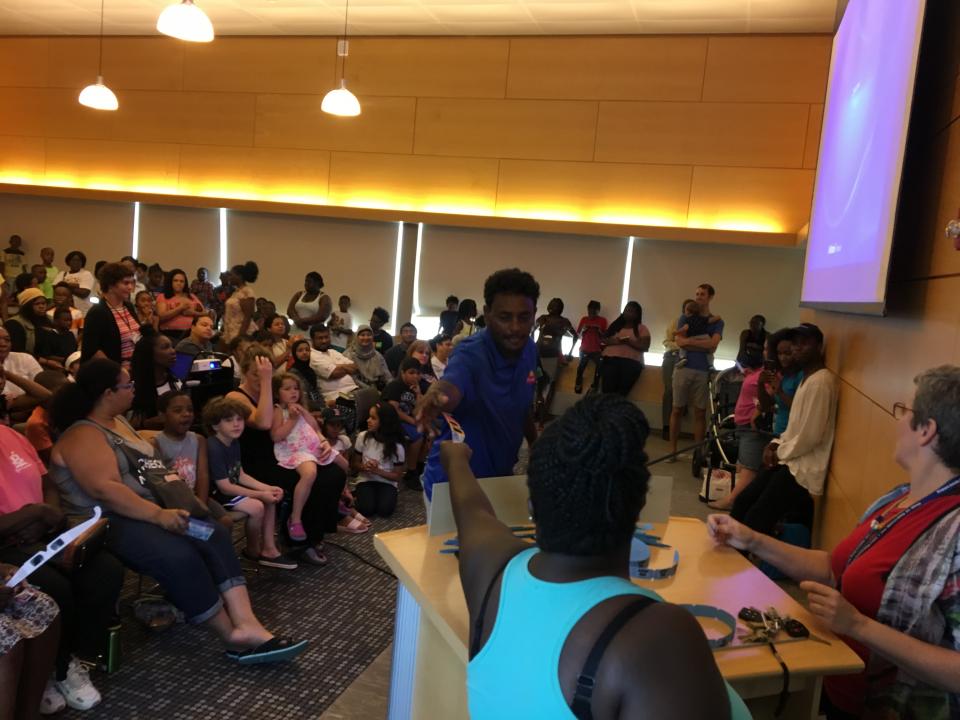 Photo Credit: Craig LeMoult/WGBH News
The library only received 25 of them, and the room felt pretty tense as the raffle began. People sat forward in their chairs as tickets were pulled out of a bucket, and they cheered as their names were called.
 
Of course the demand means there were some unhappy people, and some tears were shed by young people, who were encouraged not to cry, because people would share.
Sure enough, once everybody was outside, the glasses started getting handed around. And for a crowd of people, 25 glasses turned out to be enough, as it became less about that and more about the amazing scene above.
"This is awesome!" one child exclaimed.
"I see the moon is about to cover the sun!" another said as she looked up with the glasses on her face. 
It wasn't just the kids who are excited. 
"I see! Oh, that's beautiful!" said Anna Brown, who came with her grandkids. "Oh my God!"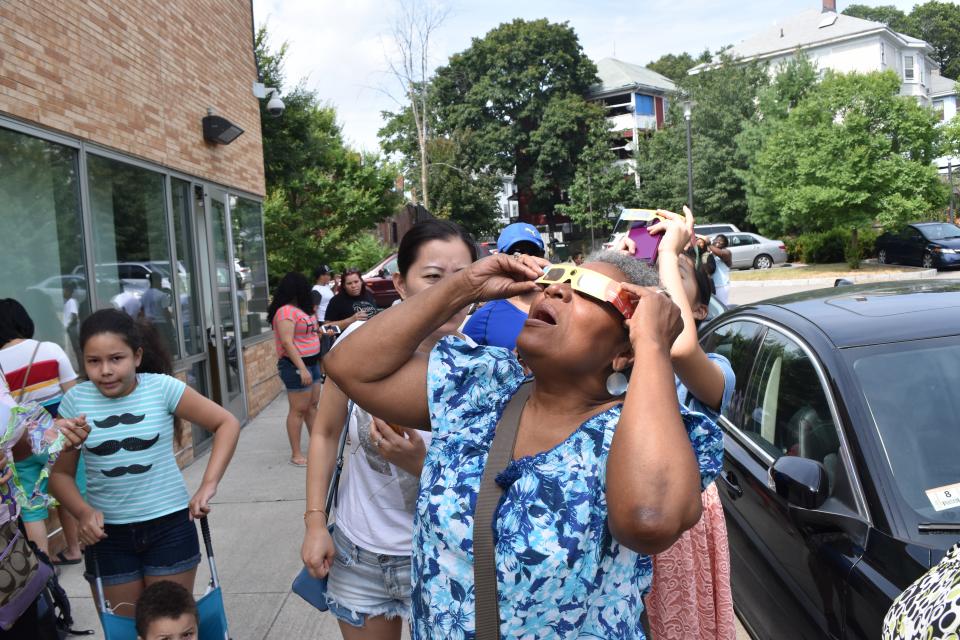 Photo Credit: Craig LeMoult/WGBH News
Alishia Hicks said it's good to have this to focus on today. "To get our minds off what's going on, the tension in the world. I think we should have more events in the community to keep us distracted from all the other things that are happening in the world."
Khalid Williams held a box of Cinnamon Pebbles cereal with a hole cut in it that he looked into, but it didn't work as well as the glasses. "I wish I was in the line of the totality, so I'd be able to see the complete solar flares coming off the sun," he said.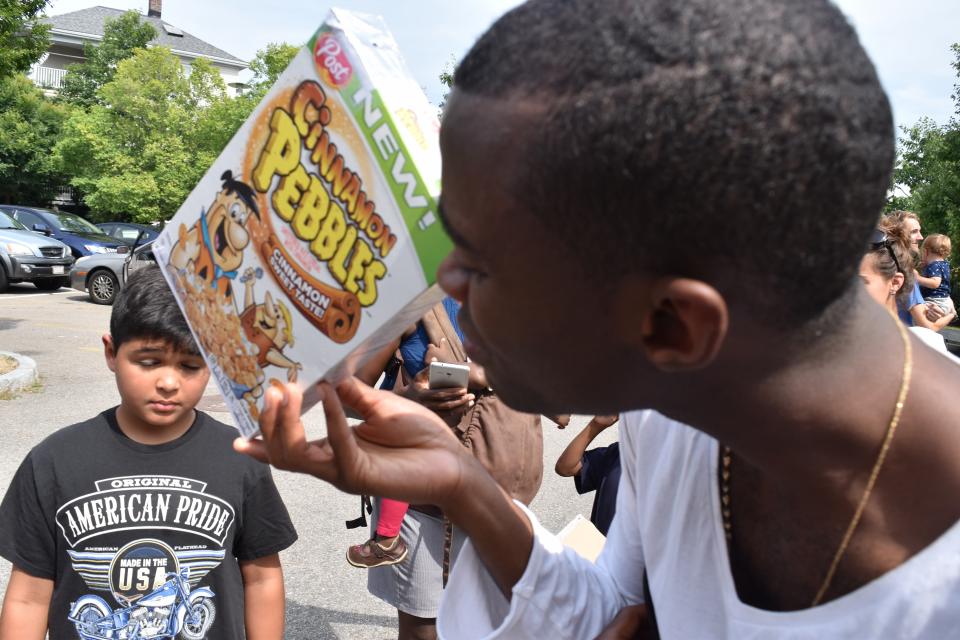 Photo Credit: Craig LeMoult/WGBH News
Not everyone was overwhelmed by the eclipse. "Ehh," said Taina Jay unenthusiastically. "I can't really see it from here." She thought everything was going to go dark, so it makes sense why what happened was a little underwhelming.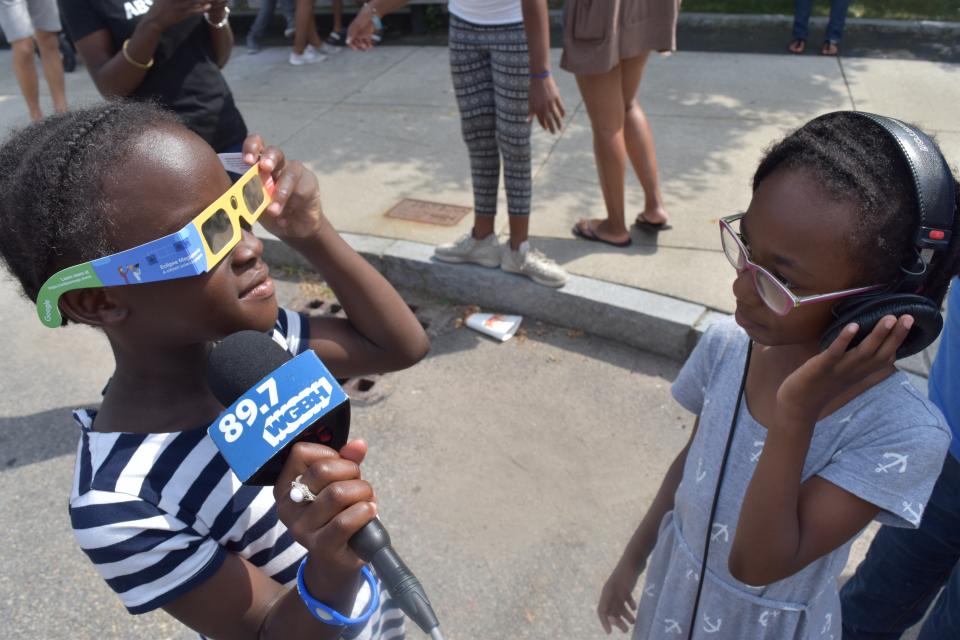 Photo Credit: Craig LeMoult/WGBH News
But for some of the library guests, the day meant more than just seeing their first solar eclipse. It was also the start of a journalism career, as one little girl grabbed a microphone and started asking questions.
"What did you see when you [looked] up there?" she asked.
"I saw a yellow banana," replied Janae Semexand.
"Was it yellow? I don't think it was."
"I think it was yellow," Semaxand responded. "Yeah, pretty much."
"OK," the young reporter said, conceding the point.