During his performance with the Boston Symphony Orchestra in Tanglewood on Sunday afternoon, cellist Yo-Yo Ma made a surprising plea to the audience. 
"We have a problem," he said, "and we would love for you to commit 'a citizen act of Tanglewood.'"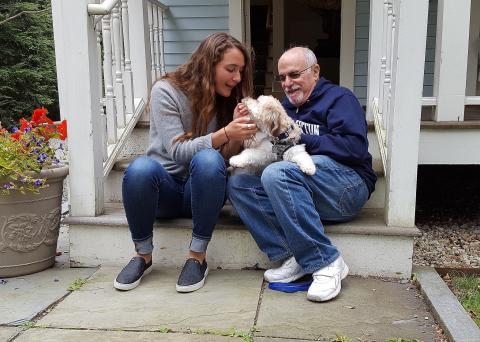 Photo Credit: Courtesy, BSO
Ma's friend and mentor, conductor David Zinman, had lost his 4-month old puppy.  Carlito, a 4-month-old Havanese puppy, had apparently been spooked by a smoke detector that morning and ran away. Zinman feared it would get run over by a car or be eaten by a coyote.
Ma told the crowd he had never done something like this before and probably never would again, but he asked everyone to tell their friends and family to look for the lost puppy in Lenox.
Later that evening, Grace Ellrodt -- who didn't attend the concert but had heard about the lost dog through concertgoers -- found the puppy and returned the him to Zinman and his wife.
Zinman called Ma his "fairy godmother" and says they have now made the cellist the godfather of "Carlito."
Click the audio player above to hear the radio version of this story. To listen to WCRB's broadcast of Sunday's Yo Yo Ma performance, click here.